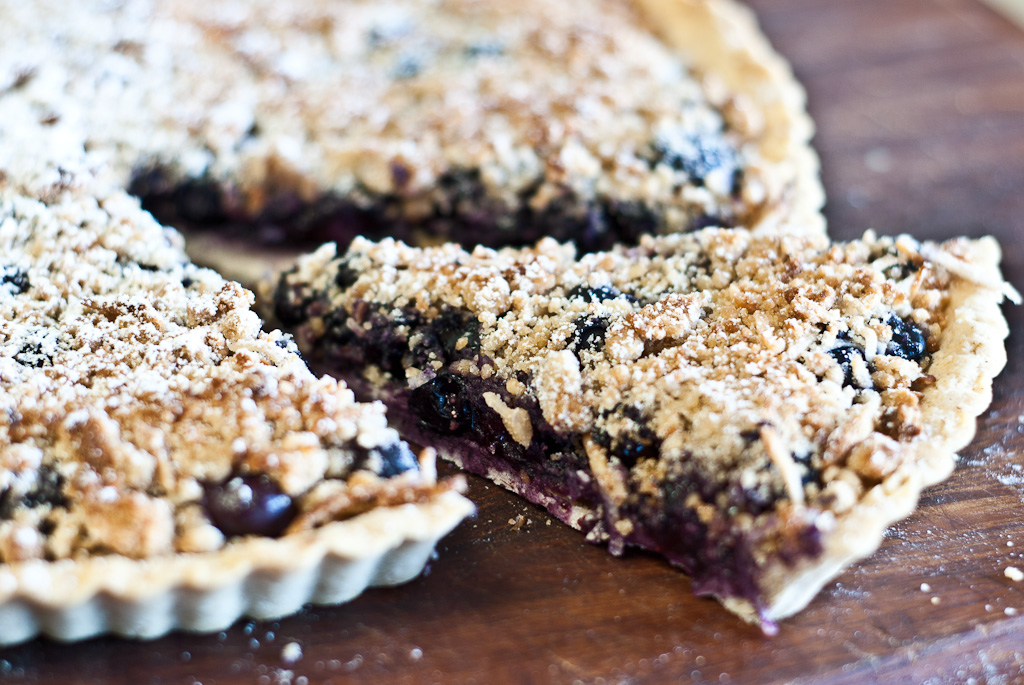 My days all blur one into the other now that I work from home. I forget when it is Saturday, which was always my baking day. But I have decided to stick to that routine at least, so I made yummy mini loaves for a guest post and this Blueberry & Almond tart for Adriano and me. Dario is away motorbiking around New Zealand with a good friend, which sometimes stops my breathing when I think of him out there on those roads with so little protection. But, he is having a great time and I was doing the same thing in Europe at his age, so I can't say much.
Back to my baking efforts. I am trying to get this gluten-free recipe right for pastry and this was a little better but still a bit tough. I have put it down below so you can scrutinize it and decide for yourselves whether you want to give it a go. It certainly holds together brilliantly and tastes fine but is a little tough to cut. I think that must be due to the lack of an egg but some among you might know the science behind it better than me. Next time, an egg goes in and less water. The filling and topping was inspired by a recipe from a favourite blog I visit called Delicious Obsessions (what a great name). I had to adjust it of course to be low FODMAP, and the recipe below is the result. It is scrumptious.
Meanwhile, over on Changing I have written an article called, Busyness – Worn as a Badge of Honour. Are you guilty of answering the question, "How are you?" with the response, "Busy"? If you are, then I have a challenge for you over there.

Blueberry and Almond Tart
Author:
Suzanne Perazzini
Ingredients
For the pastry:
¾ cup brown rice flour
½ cup potato starch
¼ cup sorghum flour
½ tsp baking powder
1 tbsp sugar
Pinch of salt
60gms/2oz butter
½ cup + 1tbsp water


For the filling:
2 cups of blueberries
¼ cup raw sugar
1 tsp almond essence
¼ cup tapioca flour


For the topping:
⅓ cup white rice flour
⅓ cup tapioca flour
⅓ cup potato starch
¼ cup coconut flour
½ cup shredded coconut
2 tbsp brown sugar
1 egg
½ cup oil (not olive oil)
½ tsp cinnamon
Method
For the pastry:
Mix all the dry ingredients together in a bowl.
Rub the butter into the dry ingredients until a crumbly mixture is formed.
Add the water and mix to form a dough.
Place in the fridge for 30 minutes.
Heat oven to 180°C/350°F.
Oil a tart tin.
Press out the chilled dough into the tart tin.
Line with baking paper and fill with baking beans or rice
Bake for 10 minutes then take from the oven and remove the beans.


For the filling:
Place the fruit in a bowl and add all the other ingredients.
Spread out in the pastry shell


For the topping:
In one bowl, mix all the dry ingredients.
In another bowl beat the oil and egg together.
Add the wet to the dry ingredients.
Spoon onto the top of the fruit.
Bake for 10-15 minutes.
Serve with some whipped cream or ice cream.