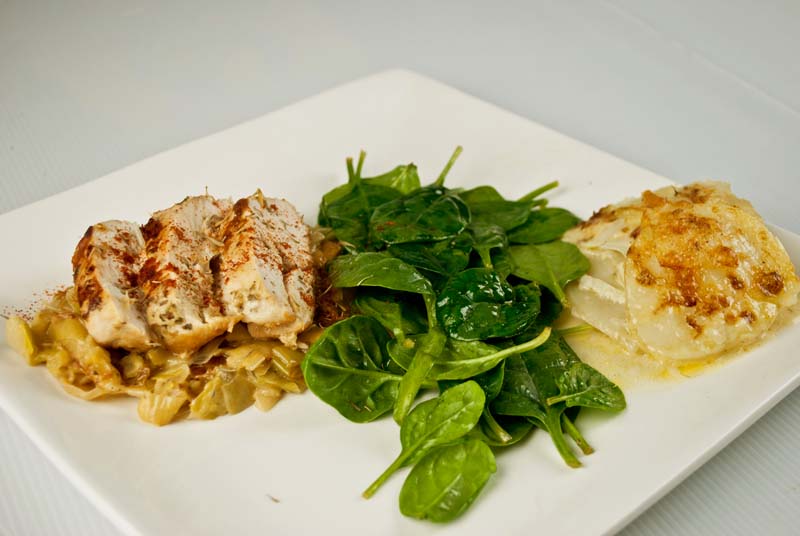 So I went and bought Jamie's 30-Minute Meals
. And tonight was my first attempt to cook one of his meals in 30 minutes. As expected, he is a whizz kid and I am a slow poke. It took just under an hour and I didn't even cook the dessert. It's not that it was difficult, it just took a certain time to prepare and then for the two main dishes to cook. Anyway, you can't beat Jamie Oliver for good old-fashioned taste. This was a very good meal which I can recommend. I served it with baby spinach leaves.
This is not a low Fodmap recipe.

Mustard Chicken & Dauphinoise
Author:
Suzanne Perazzini
Ingredients
Chicken & leek
2 chicken breasts
1 leak
A few sprigs of rosemary
Colman's mustard powder
4 cloves garlic
White wine
75ml single cream
1 tsp wholegrain mustard
Method
Rub the mustard and rosemary into the chicken breasts and place in a hot frying pan.
Slice up the leek and add to the side of the pan. Cook a little.
Crush the garlic into the leek. Turn the chicken. Add a swig of white wine to the leeks.
When the chicken is cooked through, add the cream and cover the pan with tin foil until the potatoes are cooked (see following).
When ready, remove chicken from the pan and slice. Stir the wholegrain mustard into the leeks and season.
Spoon the leek mixture onto a dish and place the sliced chicken on top.
Dauphinoise
Ingredients:
kg potatoes
red onion
Nutmeg
cloves garlic
ml cream
Parmesan cheese
bayleaves
Fresh thyme
anchovies
Method:
Slice potatoes and onions in food processor.
Place them all in a deep roasting dish.
Sprinkle with nutmeg, a handful of grated parmesan and the crushed garlic.
Pour over the cream.
Tear the anchovies up and add together with the bayleaves and thyme.
Drizzle with olive oil.
Pour over 200ml boiling water.
Place onto the stove at a medium heat. Cover with foil.
After about 10 minutes, remove the foil, add more parmesan and thyme and place on the top shelf of a moderate oven for 15 minutes.