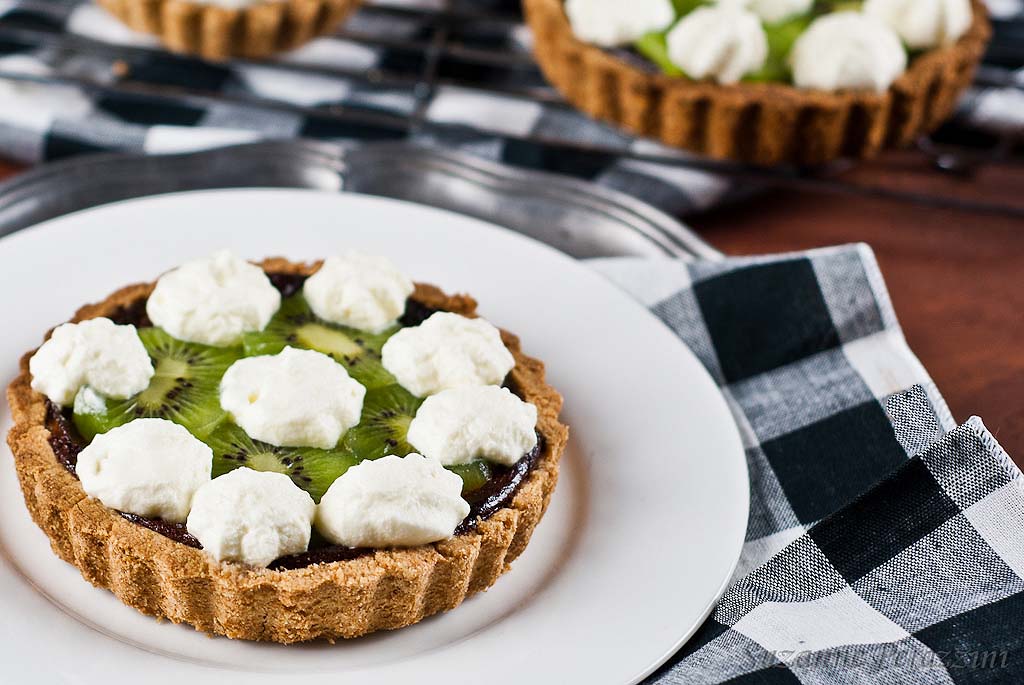 This is my first gluten-free pastry and I don't think I have quite mastered it yet. The pastry stayed together well but was delicate and crumbled upon eating. I will have to practice more. The filling worked well and was smooth and tasty. It did get a little dark on top because it took so long for the custard to set in the oven. But then again I do have a wonky oven. We Googled our oven for reviews and everyone who has this Delonghi oven has the same problems. It does make me wonder how they can make such a crappy, very expensive oven.
On Friday, I went to see the dietician attached to the gastroenterology centre I had my breath tests at, and she is pleased with my progress. I have now been exclusively on this low FODMAP diet for over six weeks, and my symptoms have reduced considerably.
The next step is to re-introduce, one at a time, examples of each of the FODMAPs. I don't have to worry about lactose because I know I am not intolerant, or fructose because I know I am. But I have to test the polyols, fructans and galacto-oligosaccharides because there is no test for intolerance to them. The elimination diet is the only way to check them.
I will start by adding back in garlic, a high-fructan food, because Adriano loves to cook with garlic in the weekend and mumbles about having to make me a separate dish of whatever he is cooking. If I react to it, I have to wait until I am symptom-free again for three days and then try something else. If I don't, then I can gradually increase the dose in the following days to see what my tolerance level is.
I have to record every food I test and the results each day. It's a long time since I have kept a diary of any kind so it will be interesting to see if I can maintain it. I will keep you informed.
This is NOT a low Fodmap recipe.

Kiwifruit Custard Tarts
Ingredients
For the pastry
225g/8oz of my gluten-free flour
45g/1.6oz caster sugar
pinch of salt
112g/4oz butter
1 egg yolk
A little water if necessary
For the filling
5 kiwifruit
⅔ cup caster sugar
150g mascarpone
3 eggs
cream to serve
Method
For the pastry
Preheat oven to 190°C/375°F.
Place everything except the egg and water in a food processor and process until crumbs are formed.
Add the egg and process.
If necessary, add a little water to form a ball of dough.
Remove from the processor and break into pieces according to the size of your tart tins.
Press the pastry in place in the buttered tins.
Place in the oven for 5 minutes to brown a little.
Remove from the oven.
For the filling
Process the peeled kiwifruit until a pulp.
Add all the other ingredients and blend.
Pour into the tart crusts.
Place back into the oven and bake for about 45 minutes depending on the size of your tart tins.
Remove and cool in the tins before removing to cool completely.
Serve with a little whipped cream and fresh kiwifruit slices.
Nutrition Information
Serving size:
3 medium tarts and 4 small tarts or 1 big tart