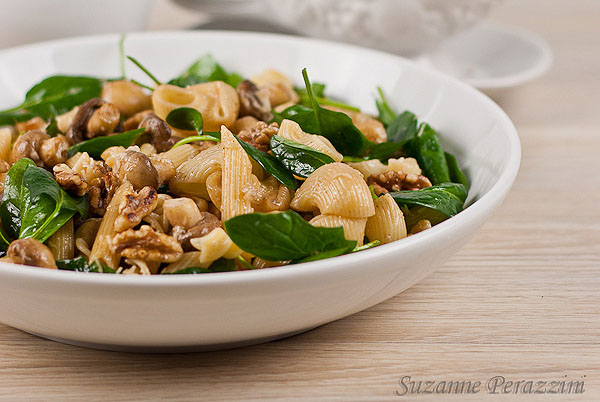 This is a quick, easy, tasty and nutritious meal when you are short on time. On Saturday we are off to Italy – I might have mentioned that half a hundred times – and there's lots to do and the evenings (after work) are not long enough to get it all done. And on that note, I'd better get this recipe in and then move on to other things. Sorry about the short post.
 This is not a low Fodmap recipe.
Pasta, Mushroom and Walnut Salad
Author:
Suzanne Perazzini
Ingredients
1 cup pasta
3 tbsp olive oil
150g button mushrooms
2 cloves garlic, crushed
1 tbsp balsamic vinegar
¾ cup walnut pieces, lightly toasted
2 cups baby spinach
½ cup grated Parmesan
Salt and pepper
Method
Cook the pasta according to the packet instructions. Drain and toss with a little olive oil.
Rinse and wipe the mushrooms and slice them in thirds if large or keep whole if they are small.
Heat 1 tbsp oil in a saucepan and cook the mushrooms until tender.
Just before they are finished, add the garlic and cook a little more.
Remove the pan from the heat and add the vinegar, swirling the pan to coat the mushrooms.
Toss the warm pasta with the mushrooms, garlic, spinach, Parmesan and walnuts.
Drizzle with the remaining oil.