The Video
So you've conquered the low Fodmap diet, as long as you stay at home and have complete control over your food. But what about eating out at a restaurant? It doesn't have to be such a scary endeavour. It's all about being prepared. In the video I will give you my very best tips for coping with an evening out to eat.

Transcript of the Video – Eating in a Restaurant on the Diet
How do we eat at a restaurant on the low Fodmap diet?
Today I'm going to give you a few quick tips about how to eat out at a restaurant while on a low FODMAP diet. And it really is just a matter of tips. The things that are invisible are our problem. We can see what fruit and vegetables are on our plate and we can avoid those that we can't eat, but the more invisible things like garlic and onion are what could be a problem for us. I advise you to choose your restaurant in advance, or if friends have suggested a restaurant, ring up the restaurant and have a chat with them. Don't chat with the receptionist or the waitress, get actually to the chef or maybe the owner of the restaurant and tell them what you can't eat. Don't give them the whole list of what you can't eat, but talk about the fact that you have to be without wheat, barley or rye, garlic and onions, lactose-free… whatever your particular diet is, because we are all different. For example, I'm not lactose intolerant and I can tolerate a slice or two of bread as long as it doesn't have too much fibre in it, in the form of seeds and so on. So ring them up, have a chat with them. See what they can do for you, what they suggest from the menu, or how they can accommodate your needs. That's the best thing to do in advance so that when you arrive there with your friends, you're not really making any fuss at all. The staff already know about you, and your friends will be so busy anyway looking through the menus trying to choose what they want to eat that they're not going to be taking that much notice of the fact that you prearranged things.
The other thing that you can do, if you just suddenly go out to a restaurant after the movie or something like that, and you haven't had time to ring ahead, is to have in your handbag or in your pocket a laminated card, and on that, put the foods that you can't eat. Not the ones that you can eat because that's really, really extensive. Put only what you can't eat and don't worry about the fruits and vegetables – as I said, you can see those. Put the garlic, onions, the legumes, the gluten-containing grains like wheat, barley, and rye, which have fructans in them. Write those or anything else that you know that is a really bad trigger for you. You can just pull that out of your pocket and show it to the waitress, and have her take it to the chef. Don't expect her to memorise what's on there – get her to actually take it to the chef, and to bring it back to you unless you're going to be laminating a lot of them. And that way, you should have a nice meal that doesn't give you any problems and that you don't resent paying for because it's just given you pain.
There are a few tips that mean you can have an enjoyable social life with your friends, or with your husband or partner, and not really have to worry about it too much.
Thank you very much for watching and goodbye.

---
Mini Savoury Muffins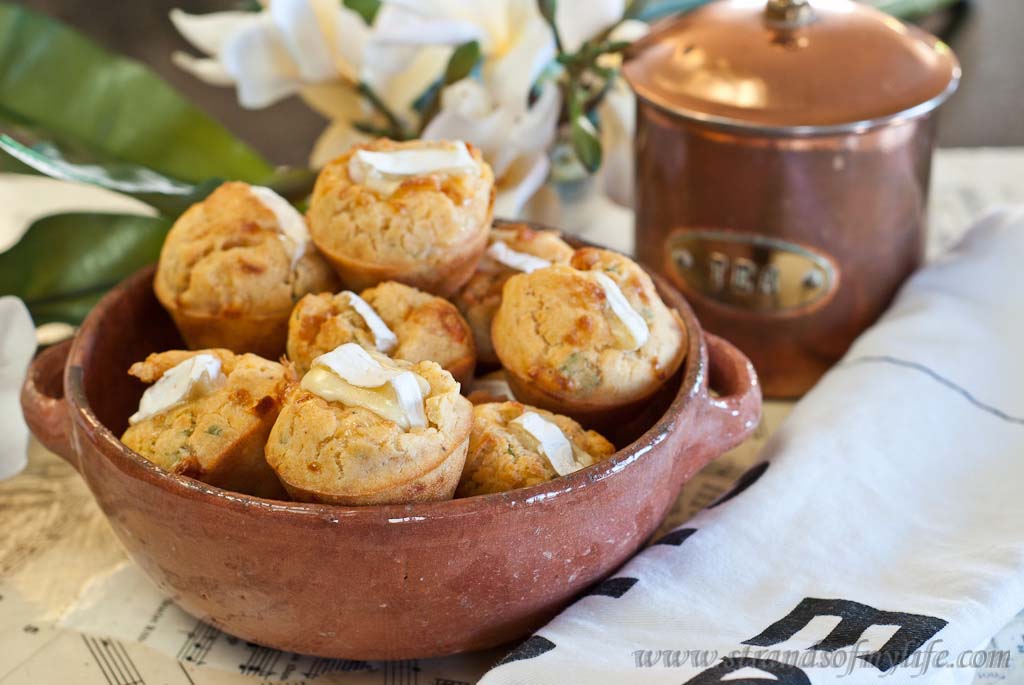 These mini muffins drive you crazy because one is never enough. They are moist and delicious and moreish. This is another recipe from my little green book that was created while living in Italy. The addition of the small slice of Camembert is not necessary because they are already cheesy but the addition lifts it into the realm of the sublime.

Low Fodmap Camembert Stuffed Mini Muffins
Author:
Suzanne Perazzini
Ingredients
1.3 cups white rice flour
0.3 cup tapioca flour
0.3 cup potato starch
2 tsp baking powder
Pinch of salt
1 tsp paprika
½ tsp ground black pepper
1 tbsp fresh coriander, chopped
50gms/1.8oz butter
1 cup grated hard cheese
1.5 cups lactose-free milk
1 egg
250gms/8.8oz Camembert
Method
Heat oven to 180°C/350°F.
Sift the flours, baking powder, paprika and salt together.
Rub the butter into the dry ingredients.
Add the pepper, coriander and grated cheese.
Beat the egg and milk together and add to the mixture.
Butter or oil a mini muffin tin and fill each compartment almost to the top.
Bake for 12 minutes.
Remove from the heat, slice a small cut in each muffin and place a thin slice of Camembert in the cut.
Place back in the oven for 3 minutes.
Serve warm to enjoy the melted Camembert or pop them in the microwave to re-heat them.