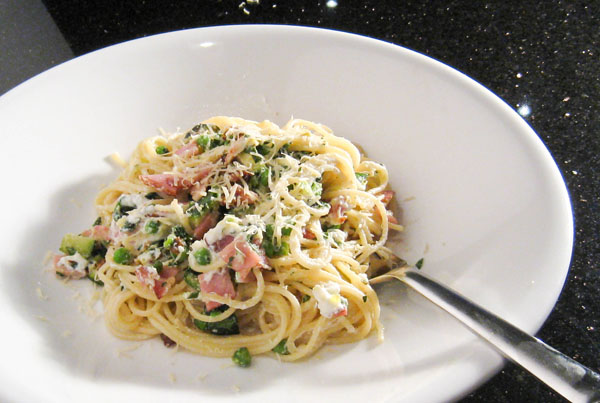 This pasta dish has a heap of healthy vegetables but tastes decadent – the perfect dinner for the family. I used a whole 500g packet of spaghetti for the three of us but remember that Adriano eats for three just to keep his weight level. Lucky man.
This is not a low Fodmap recipe.

Pasta with Ricotta & Zucchini - and much more
Author:
Suzanne Perazzini
Ingredients
Shallots (I used spring onions) - chopped
Bacon - diced
Leeks - sliced thinly
Parsley - chopped up
Zucchini - diced
Lemon zest - finely grated
Garlic - crushed
Peas
Baby spinach leaves
Olive oil
Ricotta
Parmesan
Spaghetti
Method
Cook the first 9 ingredients in the oil but add the spinach leaves at the last minute.
Cook the spaghetti, drain and toss into a big bowl.
Add the vegetable mixture and some big tablespoons of ricotta.
Mix it all up and top with grated Parmesan.
Serve piping hot and enjoy.