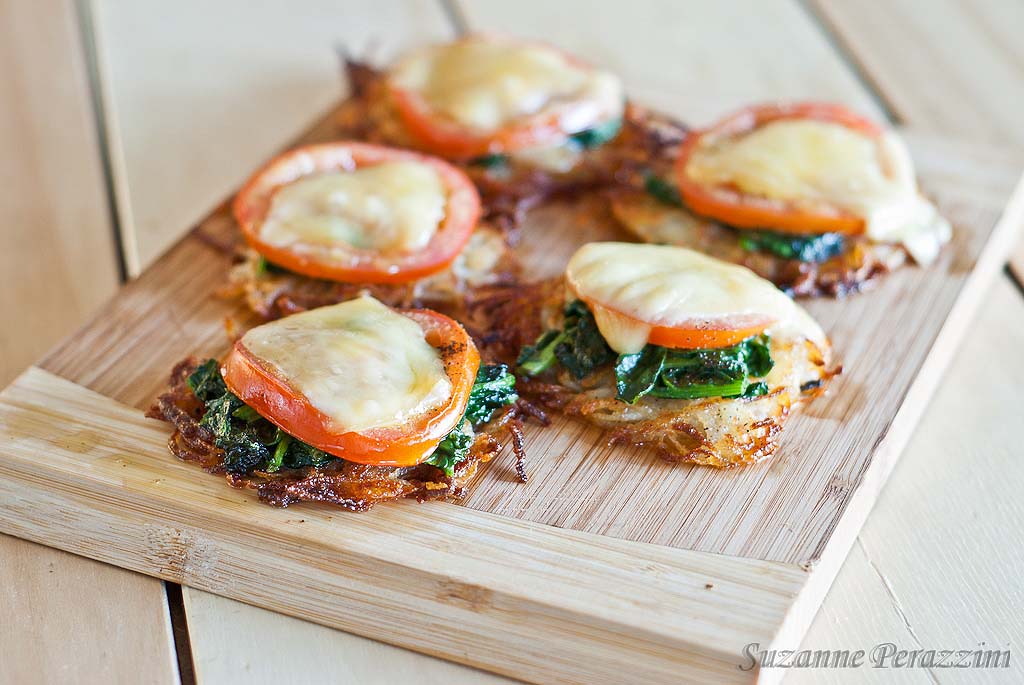 Tomorrow I am going for a hydrogen breath test to check for a couple of food intolerances. Yes, this is a journey and I am not there yet. There is something else going on that has not yet been identified, hence this test. It takes 3 hours which is a bit of a pest because it means time off work. And it's necessary to have three sessions – the first is a control test, the second a fructose test after filling up on juice and the third is a lactose test (they are related) after filling up on milk (I think). Today I have been on a strict diet to make sure I am empty of certain food groups and I have had very peculiar meals. But I wanted to feed Dario and Adriano well despite my woes. These potato rosti pizzas worked well because I was able to eat everything except the cheese. They are simple to make, require few ingredients and got the approval of both male members of the family.

Potato Rosti Pizza
Serves:
8 potato rosti pizzas
Ingredients
4 potatoes, peeled
Salt & pepper
A bag of spinach
1 tomato
Edam cheese or mozzarella
Coconut oil & butter
Method
Preheat the oven to 180°C/350°F.
Grate the potatoes in a food processor or with a hand grater.
Squeeze out all the water and dry with a clean tea towel.
Season with salt and pepper and mix well.
Melt the butter and coconut oil in a frying pan.
Place heaped spoonfuls of the mixture into the hot oil/butter mixture and shape into rough, flat circles.
Fry until golden on both sides.
Meanwhile wilt the spinach in another frying pan with a little butter.
Place the cooked rosti on baking paper on a baking tray.
Place a layer of spinach on top of each one.
Follow with a slice of tomato and season.
Layer a slice of cheese on top and place the tray in the oven for about 5 minutes until the cheese is melted.