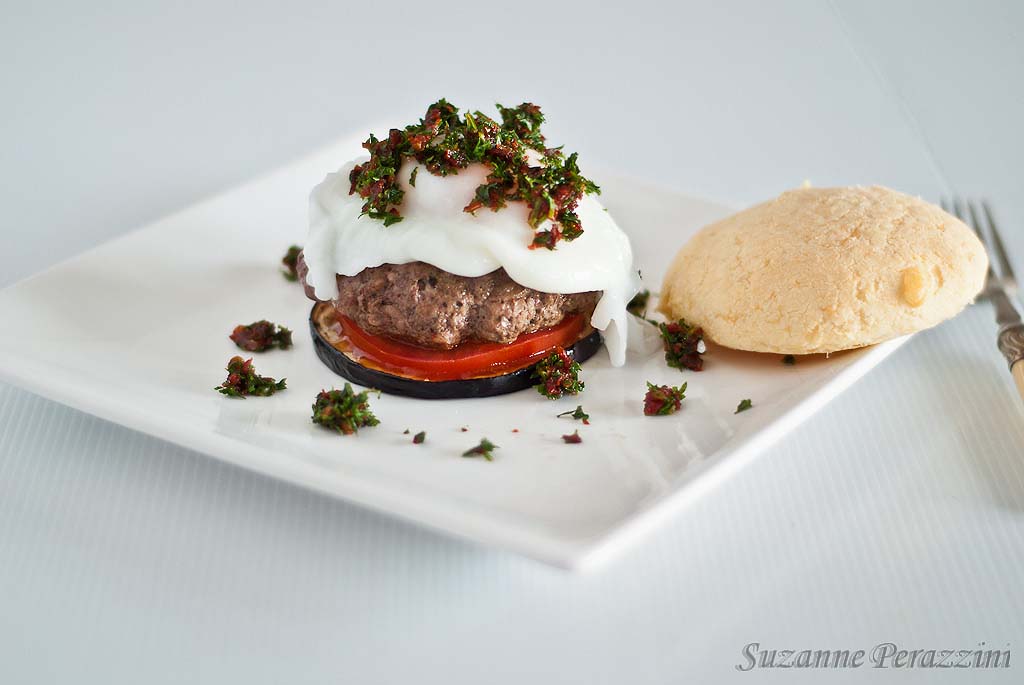 The changing of web hosts has happened, not without hiccups but it should all be smooth from now on. The great thing is the increased speed of my blog, in particular behind the scenes. I used to be able to go get a drink of water in between screens changing. And it kept going off line all the time. I spoke in a live chat with my previous host and they said they couldn't do anything about it. My new host costs about 5 times as much but it will be well worth it in the end if I can work faster. Time is precious.
In the photo you can see a great food stack we had for dinner. Layers of eggplant, tomato, beef burger, poached egg and a sprinkling of parsley and sundried tomatoes. But anyone can make that or a version of it. What I am going to tell you about is that lonely little bread roll over on the side. As usual the photos were taken fast before the egg cooled down or slid off the stack so I didn't think to get a shot of the inside of the roll. But I will definitely be making these again because they are grain and nut-free – my first bread since starting this food journey.
My mother dropped into work and we went off to have a cup of tea together and in the conversation, she mentioned tapioca flour not being a grain flour because it comes from the root vegetable called tapioca or cassava. So that evening after work I investigated tapioca flour and its properties and it is very like cornflour (which is not paleo). I managed to find this South American cheese bread recipe which uses tapioca starch and no other grains. The recipe was pretty much consistent everywhere I saw it so there is no specific source but the recipe was not my invention. This was so easy to make – it all went in the food processor and took no time to cook. And it tasted amazing. And that wasn't just because I hadn't had bread for ages because Adriano, who is a massive bread eater, loved these rolls too. Fresh and still warm they were delightful. I thought they would be no good the next day but I was wrong. I put one in the microwave for 20 seconds for breakfast and it tasted as if it had just come out of the oven.
If you are grain-free, gluten-free or nothing-free, do give these a try. I have since been experimenting with making tapioca rolls without cheese and last night I hit the jackpot by adding some coconut flour. Unfortunately there was no time for photos because Dario needed to eat and go out. The next time I make them, I will photograph them and give you the recipe. I am thrilled to have found bread I can eat and for it to be so good.

Roasted Eggplant Stacks and Pan de Yucca – Grain-free
Ingredients
2.5 cups tapioca flour
3 cups Edam cheese (mozzarella would be equally good)
1 tsp baking powder
pinch of salt
113gms/ 1 stick butter
2 large eggs
1-2 tbsp water, if needed
Method
Preheat oven to 350°F/180°C.
Mix the flour, cheese, baking powder and salt in a food processor.
Add the room temperature butter and eggs. Blend until it clumps together.
Add a little water if necessary.
Make small rounds of the dough and place on baking paper on an oven tray.
Bake for about 10 minutes until cooked.
Serve while warm. These can be re-heated the next day in a microwave and they become soft again.