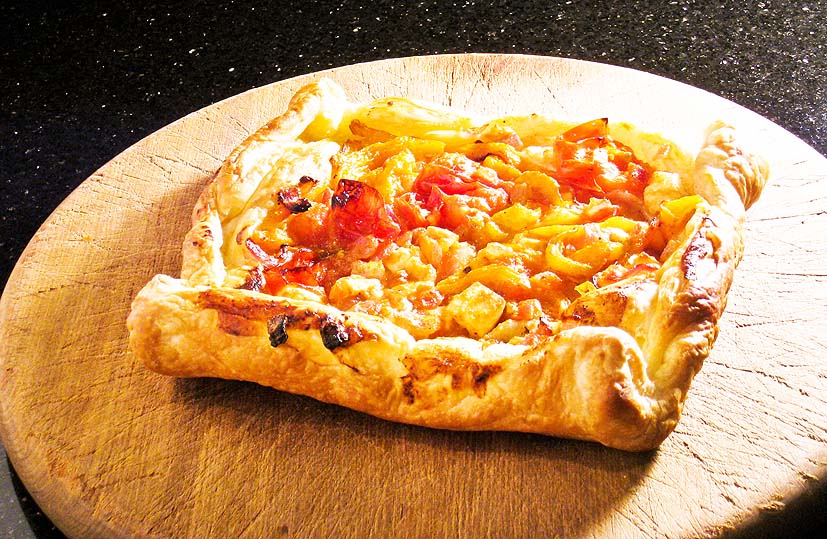 There's something rather French about tarts but you find these rustic ones in Italy as well. Nothing fancy happens with the pastry. You just lie it flat, pile the ingredients in the middle and fold up the edges to create a kind of shell. Then put it in a hot oven and watch it brown. You could create your own fillings for these but this particular one I got out of my favourite cook book – Woman's Weekly Great Casual Food.
This is NOT a low Fodmap recipe.
Roasted Vegetable Tart
Ingredients:
Cherry tomatoes halved
Small red onion sliced
1 yellow capsicum
1 red capsicum
100g feta cheese
3 sheets of puff pastry (the recipe had filo pastry)
basil
Method:
The recipe said to roast the onion and tomatoes for 40 minutes but I don't have that sort of time so I cooked it in olive oil and it worked out well.
Quarter the peppers and grill in the oven until black and peel off the skin, then slice thinly.
Add to the tomato mixture with the diced feta.
Pile into the centre of the puff pastry sheets and fold edges of pastry to create a low wall all round.
Cook in a hot oven for about 15 minutes.
Sprinkle with basil leaves when cooked. I forgot to do this, hence no green leaves in the photos.