On the low Fodmap diet for irritable bowel syndrome, we are rather restricted on what we can drink. But that's only in comparison with the wide range of drinks on offer. Once upon a time, people drank water, milk, tea, coffee, alcohol and some fresh juices. Today the supermarket can have aisles of different drinks of all colours, flavours and sizes with varying degrees of health benefits. And so that's what we now expect, but the low Fodmap diet cuts out a large percentage of those and that takes a degree of adjustment for some people. For the most part we are a lot better off because most of the drinks in those aisles are seriously detrimental to our health. Anyway, have a look at the video to see what you can drink.
Video
Transcript
What can I drink on the low Fodmap diet?
Welcome to this video. Today I'm going to talk to you about what drinks you can drink on the Low FODMAP Diet.
Water
Well, of course you can drink water – that is the one that you have just got to learn to love really because it has no FODMAPs and it's not going to be a problem if you drink it.
Juice
You've got to be careful about juices because they're made from fruit and vegetables, and they all have FODMAPs in them, but even if you choose the low FODMAP fruits and vegetables and juice them, you're really concentrating the fruit into that juice and so the fructose load will go up. They say you can have half a glass of orange juice, but I would be careful about that. I find that even a full orange sometimes is a little bit too much for me and I would never really want to try orange juice but you could test that for yourself.
Cocoa
You can drink cocoa. You can have three heaped teaspoons of cocoa at a time. Just make sure if you're making a cocoa drink, that you use lactose-free milk or rice milk, or something like that, but don't go over those three heap teaspoons and I wouldn't add sugar to that. Don't have a carob based drink – that is high FODMAP.
Tea and Coffee
Otherwise, a common drink of course is tea and coffee. Both of those have caffeine in them and caffeine is a gut irritant but you can have weak tea or coffee. We're not saying you can't have any at all but do reduce the amount you have and never have it strong. A good alternative is herbal tea, some herbal teas not all of them. Peppermint tea and ginger are good. I have ginger and lemon tea, that's a good-combination. Don't have fennel tea or chamomile tea – they're high FODMAP and no fruit-based teas with chicory-root – they're not going to leave your tummy not feeling very good.
Wine
As for alcohols – you can have a glass of dry wine. Alcohol's also a gut-irritant like caffeine, so if you can do without alcohol, that's only going to be a very good thing for your gut, but if you want to, do have a glass of dry wine. They're made from grapes and grapes are low FODMAP. Don't go over that one glass though or you'll probably pay for it.
Spirits
Spirits are okay on the whole, but I wouldn't have more than one nip again and usually the problem's what you put together with the spirit. It's usually sugary carbonated drinks. The carbonation alone is a problem for us with IBS even without the sugar load that's in a lot of those soft drinks.
Beer
Some beers are okay, but some of them have mannitol in them, which is a polyol. So that makes it high FODMAP. You can have one glass of beer and then stop at that. It's carbonated as well and that's going to irritate your gut.
So as I said before, the very best thing for you to drink on the Low FODMAP Diet if you got Irritable Bowel Syndrome is water, and you've just got to learn to love it. All right, thank you very much for listening to this video and good bye.

---
Rosti Pizzas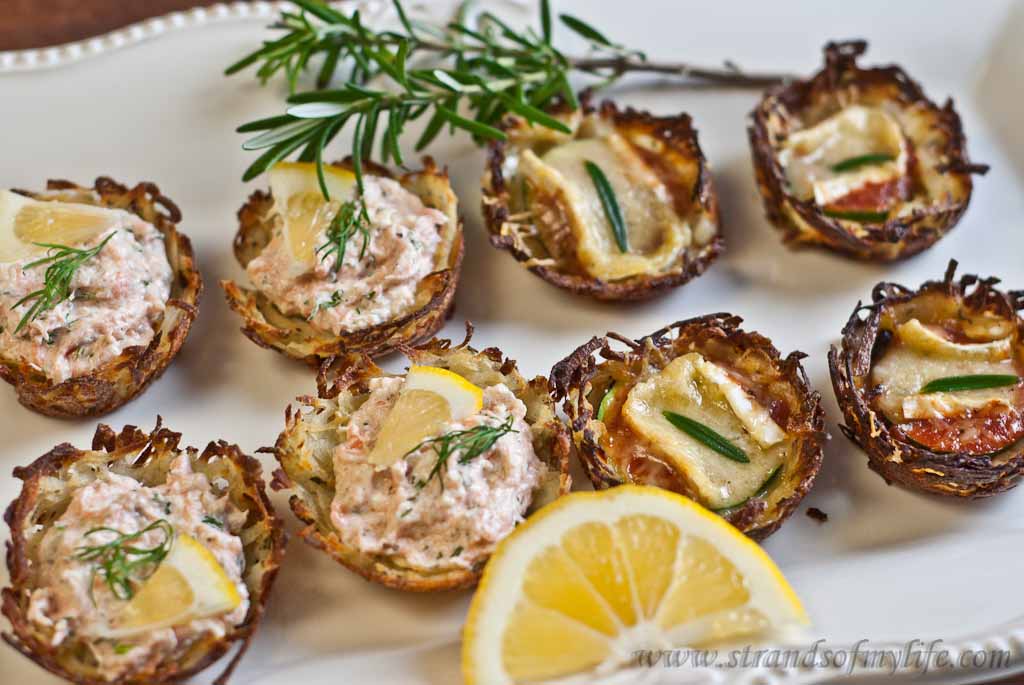 It's the weekend again so time for those nibbles to go with wine.  I really enjoy potato rosti so I wondered if they could be formed into cups to hold some leftovers and yes, they can. I stuffed the grated potato into muffin cups, baked them and then filled them with what I could find in the fridge. The edges got a wee bit too brown but they sure tasted good. The potato rosti is really just an alternative pastry shell for little tarts.

Rosti Pizzas
Author:
Suzanne Perazzini
Ingredients
For the rosti:
4 potatoes
Rosemary
Olive Oil
Salt & pepper
For the salmon filling:
Cooked salmon fillet
Cream cheese
Plain yoghurt
Lemon juice
Dill, chopped
Salt & pepper
For the pizza filling:
Zucchini
Camembert
Tomato puree
Parmesan
Salt & pepper
Method
For the rosti:
Heat oven to 180°C/350°F.
Grate the potatoes and squeeze out all the liquid.
Mix in a bowl with a little olive oil and season it.
Chop up the rosemary very finely (not too much because it is quite strong) and add to the potatoes and mix well.
Oil large muffin tins.
Press the potato mixture into the pans to create little cups.
Bake in the oven until crispy though the inside will stay a little soft.
Cover with tin foil if the edges are getting too brown.
For the salmon filling:
Flake the salmon and mix all the ingredients to taste.
Place in the cooked rosti cups and serve.
For the pizza filling:
Slice up the zucchini to create one round per pizza and place it in the base of each one.
Place a small spoonful of tomato puree on top.
Season the puree.
Slice up the Camembert and place a square on top of the puree.
Grate a little Parmesan over the top.
Place back in the oven for about 5 minutes until the cheese is melted.