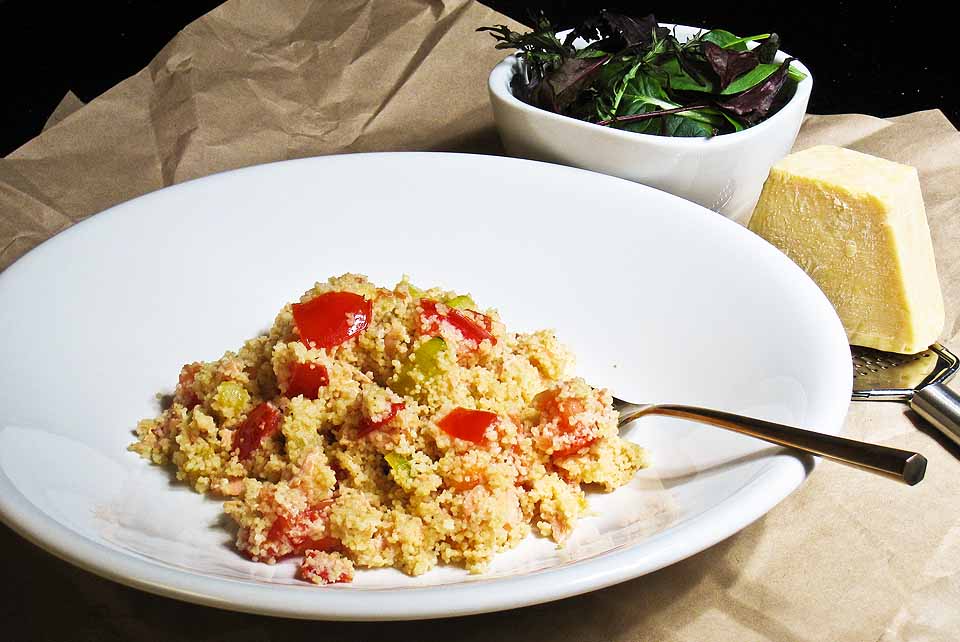 Time for a hit of Omega-3 again. As always, I have to disguise the salmon as much as I can so Adriano and Dario will eat it. I found this recipe on thecomfortofcooking.com with hubby's favourite grain, couscous and knew I was on the right track. The zucchini and tomatoes rounded the meal out and voila – another of my favourite all-in-one dishes.
Dario bought me a new tripod and a reflector umbrella today. He even deigned to let me borrow his flash. Now he has his degree in architecture, he is doing a diploma in photography at Unitec so I get to use some of his equipment – if I am a good girl. Unfortunately my point and shoot can't be synched with the flash so it was a bit of guess work but I think I got a reasonable photo in the end.
The following recipe is not low Fodmap with the couscous, which is made from wheat, but you could replace the couscous with rice to make it suitable.

Salmon Couscous Salad with Tomatoes and Zucchini
Author:
Suzanne Perazzini
Ingredients
2 cups couscous
Olive oil
2 small fillets of salmon
1 large zucchini
3 tomatoes
Juice of 1 lemon
Salt & pepper
Parmesan cheese
Method:
Method
Cook the couscous according to the instructions on the packet.
Place oil in pan and fry salmon until just cooked. Flake once cooked.
Add chopped up zucchini to the same pan and cook about 5 minutes.
Add chopped up tomatoes to the pan and remove from the heat.
Combine everything and add lemon juice.
Season and add as much Parmesan as you like.
Eat hot or cool.