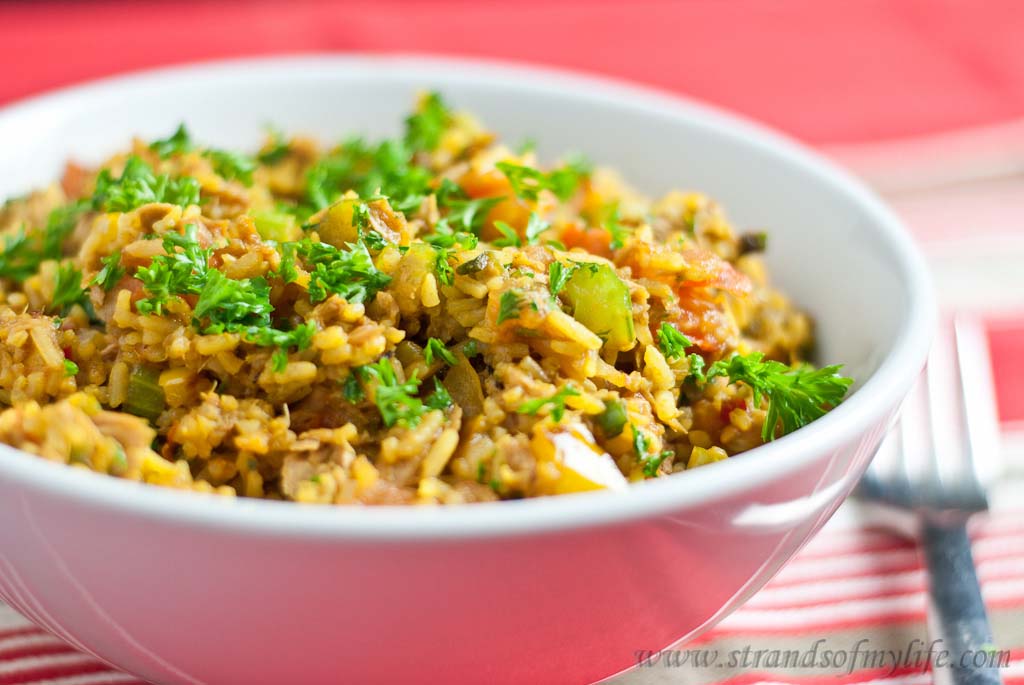 In our household we often have leftover rice because I find it difficult to calculate it correctly. I always eat a small amount but my husband is the wild card and will sometimes eat for four but sometimes only for two so I often make too much. Since we mustn't keep cooked rice for too long because bacteria grows on it really quickly, the next day I use it in invented dishes and that is how this one came about. It is one of the quickest I have made in a while because the protein meat was canned tuna. With the herbs and spices I used, it was delicious and no one would have guessed it took me around 10 minutes for the entire preparation and cooking process. Next time you have some leftover rice, give this a go. It is low Fodmap and gluten-free and will keep your gut calm. Watch the tomatoes though if you have reflux.

Tuna, Tomato and Rice Stir Fry - low Fodmap
Author:
Suzanne Perazzini
Ingredients
1 tbsp oil
1 spring onion, green part only, sliced
1 stalk of celery, sliced finely
1 deseeded red chilli
2 tsp cumin powder
2 tsp turmeric powder
Cooked rice
1 can tuna in springwater
2 tomatoes
3 tbsp chopped fresh parsley
3 tbsp soya sauce
Method
Heat the oil in a wok.
Put in the next 5 ingredients and cook for 1 minute.
Add the rice and cook until coated in spices.
Add the chopped up tomatoes and tuna.
Cook to heat through and add parsley and soya sauce.
Cook 2 minutes and serve.