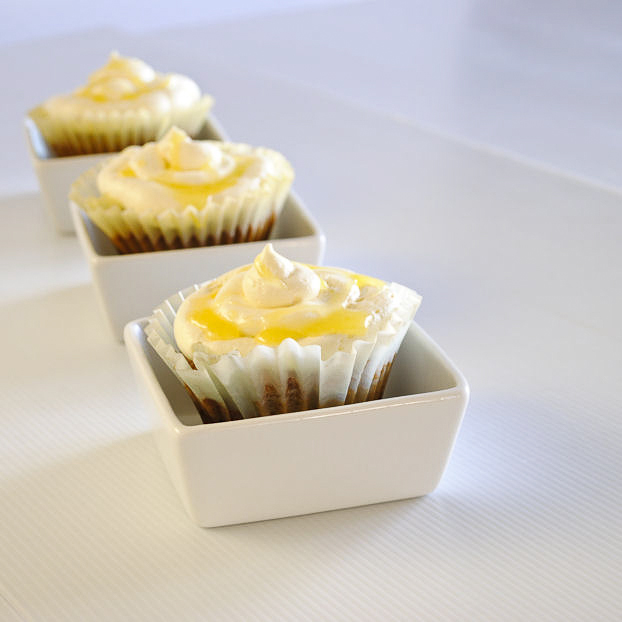 Even though I made a banana loaf on Friday night, I still decided to do the Saturday baking as planned. I already had picked out a recipe for scrumptious looking cupcakes from here and went ahead and made them. Her recipe for the caramel sauce didn't work well and turned out yellow so I think you could use the one I made last week for the caramel chocolate bars. When I made the batter according to the instructions, it ended up a curdled mess and I thought I was in trouble but the cupcake turned out light and delicious. The icing is so rich you can only eat one a day or your cellulite will get the upper hand so I took some to my Mum's for Mother's Day and will take some to work tomorrow if there are any left after Dario gets into them tonight.
[print_this]
Salted Caramel Apple Cupcakes
Ingredients:
1 tbsp caramel sauce – recipe found here
3 small apples – peeled, cored and cut up
230g flour
200g caster sugar
1 tsp baking powder
1/2 tsp  bicarbonate of soda
175g soft unsalted butter
2 large eggs
150ml sour cream
1 tsp ground cinnamon
1/4 tsp ground cloves
1/4 tsp ground ginger
Icing:
125g room temperature butter
2 cups icing sugar
1/4 cup of milk
2 tbsp of caramel sauce
Method:
Preheat the oven to 180 degrees Celsius (350 Fahrenheit) and line a 12 hole muffin tin with paper cupcake liners. Remove the butter and eggs from the refrigerator and allow them to come to room temperature before making the cupcakes.
Using a food processor with a grater attachment fitter grate the apples. Swap the grater attachment for a chopping blade and add all of the ingredients into the bowl of the food processor and process until you have a smooth, thick batter. Divide the batter between the cupcake liners. Bake for 15 to 20 minutes or until cooked and remove from the tray and place on a wire wrack to cool.
To make the frosting beat the butter in the bowl of a stand mixer fitted with the paddle attachment on medium-high speed until light in color and fluffy, roughly 3 minutes. Reduce the mixer speed to low, and gradually add the icing sugar alternating with the milk, and mix until completely incorporated. Add the caramel while the mixer is low and then increase to medium-high and beat until airy and thoroughly mixed, about 2 minutes.
To decorate the cupcakes fill a piping bag with the frosting and pipe onto the cupcakes. Drizzle with some of the remaining caramel sauce.
[/print_this]