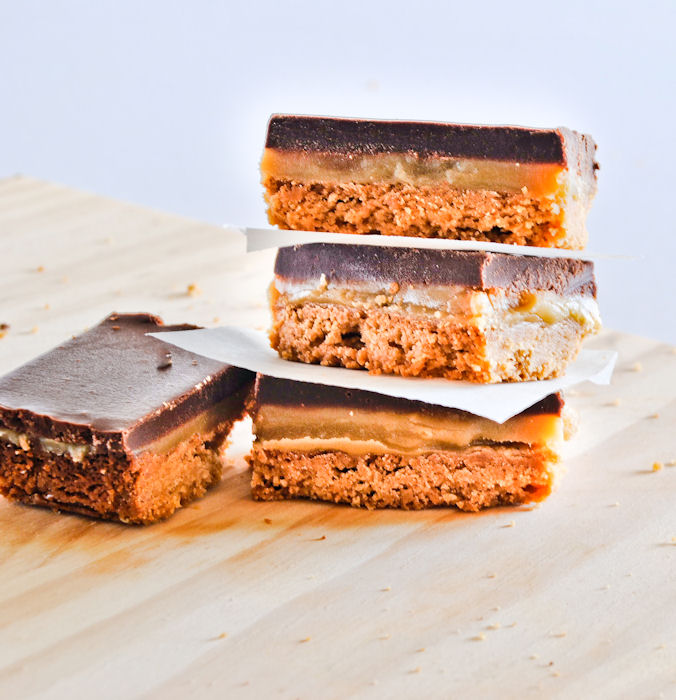 This weekend baking gig seems to be becoming a regular indulgence. I found this recipe on That Skinny Chick can Bake and couldn't resist it. I obsessed about it all week and found myself in the supermarket on Saturday with a shopping list in hand. The result was super sweet and my cravings were fulfilled. It was really simple though there were waiting times in between stages so it was necessary to have somethig else on the go at the same time.
[print_this]
Chocolate Caramel Slices
Ingredients:
2 cups wine biscuits
1/4 cup sugar
170g butter
***************
1/2 cup cream
113g butter
1.5 cups brown sugar
1 tbsp water
****************
2 cups semisweet chocolate chips
1/2 cup cream
1 tsp instant coffee
Method:
Preheat the oven to 190ºC. Line an 20cm x 20cm inch pan with  non-stick foil or regular foil sprayed with non-stick cooking spray…leave some excess on two sides to assist with removal. In  a food processor, combine the wine biscuits and sugar and process until finely ground. Add the melted butter and blend until well combined. Spread the mixture into the bottom of the pan, pressing gently to form an even layer. Bake for 10 to 12 minutes until the crust is golden. Cool for about 15 minutes.
While the crust is cooling, in a heavy  saucepan, combine 1/2 cup of cream, 113g butter, brown sugar, and water. Stir over medium heat until the mixture is smooth. Bring the mixture to a boil and cook, without stirring, until a candy thermometer registers 115º C, about 5 to 7 minutes. Carefully pour the caramel over the warm crust. Cool for 20 minutes. Freeze until firm, about 10-15 minutes.
Combine the chocolate chips and cream in a microwave safe bowl and microwave at 30 second increments, stopping and stirring till mixture is melted and smooth.  Whisk in the espresso powder. Remove the pan from the freezer, and check to see that the caramel has cooled and solidified. Pour the chocolate mixture over the caramel layer and smooth with a spatula.  Refrigerate for at least 1 hour until firm.
Remove bars from pan using foil. Use knife dipped in hot water and dried to cut bars.  
[/print_this]