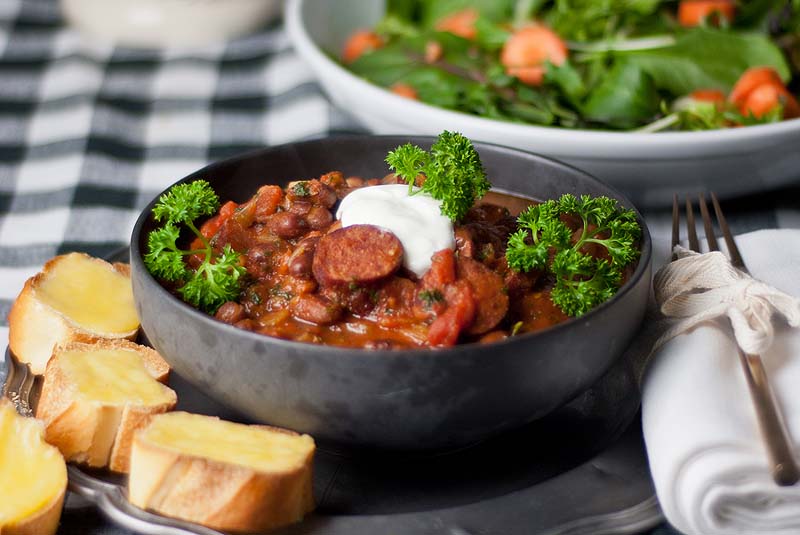 I didn't discover chorizo sausages until a few years back and what a difference they have made to my culinary life. But you have to be careful how you use them or the strong, spicy flavour will overwhelm all else. Last night, I watched an episode of Kitchen Rules on TV and was surprised at the lack of basic cooking knowledge the couple displayed. They put a leg of lamb which was already cooked back into the oven to cook a little more and then covered it in foil to rest, which continued cooking it even longer. They also added one of the strongest herbs, tarragon, to a delicate flavoured entree dish and then for dessert made a lemon and lime tart with a passionfruit sauce – all sharp elements, which would have twisted my tongue into an arabesque. Pete hated the dessert but, strangely enough, French Manu liked it and they gave it widely disparate marks. The only other guests who liked it were the two men who love all things French and think the sun shines out of Manu's …. you know what. But above all these faults, what shone through was their passion for cooking. I think a lot can be excused if there's passion and it's wonderful to watch cooks who express themselves in their food. I don't really know what that means but you know it when you see it. When you watch Jamie Oliver sprinkle parmesan from up high or place the last little bit of herb with such gentle precision, you know you have seen it – passion.
I found this recipe in the local supermarket magazine. The good thing about recipes from such a magazine is that you know they will have all the ingredients and that they will work and be tasty. Otherwise all the locals would descend upon the supermarket in angry droves. This is a big bowl of delicious comfort food, ideal for this cold weather. Every little bit was eaten by the three of us.
Spicy Sausage & Bean Hot Pot
Author:
Suzanne Perazzini
Ingredients
1 tbsp olive oil
1 small onion - diced
½ tsp cajun spice
2 tins of peeled, chopped savoury-flavoured tomatoes
½ cup of water
1 tin red kidney beans - drained
2 large spicy chorizo sausages, sliced
1 tbsp parsley - chopped
Salt & pepper
Method
In a saucepan, heat the oil and saute the onion and spice until just coloured.
Add the tomatoes, water and beans and simmer for 8-10 minutes.
Add the sliced sausage and simmer for 3-4 minutes.
Add the parsley and season to taste.
Serve in bowls with grilled cheese taste on the side.