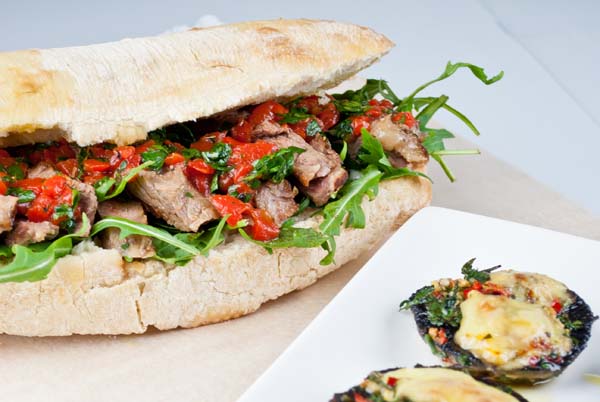 Recipe No. 3 and another success. This meal consisted of a steak sandwich, stuffed mushrooms, a beetroot salad and a potato dish. I felt there was no need for two carbohydrate sources so cut out the potatoes and I also didn't do the beetroot salad because I am not keen on beetroot. The other two dishes provided plenty of vegetables with the steak for protein. The two dishes I made took half an hour so I am guessing with the other two, it would be at 45 minutes plus.
This recipe is not low Fodmap.

Steak Sarnie and Cheesy Mushrooms - Jaime Oliver Recipe
Author:
Suzanne Perazzini
Ingredients
For the Mushrooms
Large Portobello mushrooms
2 cloves garlic
A fresh chilli
Parsley
½ a lemon
Cheese
For the Steak
500g rump steak
Thyme
1 ciabatta loaf
Jarred peppers
Parsley
Horseradish sauce
Rocket
Seasoning
Olive oil
Salt & pepper
Method
For the Mushrooms
Heat oven to 200 degrees C or 350 degrees F.
Trim the mushroom stalks and place in an ovenproof dish, stalk side up.
Crush the garlic over them, chop up the chilli and some parsley and sprinkle over the mushrooms.
Grate over the zest of ½ a lemon, drizzle with olive oil and season.
Cut up the cheese into chunks and place 1 on each mushroom.
Grill on the top shelf of the oven for 9-10 minutes.
For the Steak
Put steaks on a board and sprinkle with salt, pepper and thyme leaves. Drizzle with olive oil. Rub the flavours into the meat, flip and repeat.
Put onto a hot grill to cook for 1-2 minutes per side for medium rare or longer if preferred.
Put the ciabatta bread onto the bottom shelf of the oven.
Finely chop the peppers and parsley together, mix in some olive oil and season.
Place the cooked steaks on the same board and rub with the mixture, then scrape the rest to one side.
Slice up the steaks at an angle.
Get the mushrooms and ciabatta out of the oven.
Slice open the bread. Drizzle with olive oil.
Spread over the horseradish sauce, arrange the rocket on the sauce.
Lay the steak on top. Scrape up the rest of the pepper mixture and scatter over the steak. Place the bread lid on top.