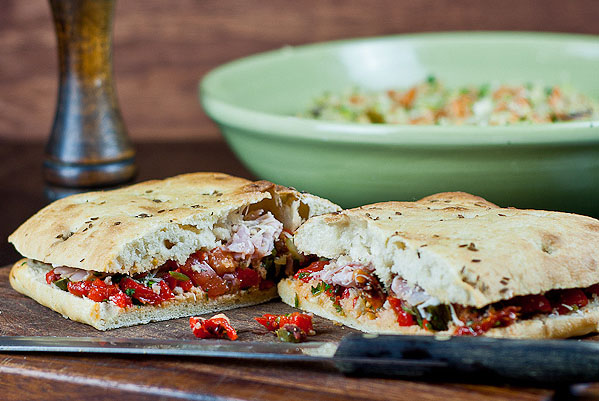 Tonight I made part of one of  Jamie Oliver's 30-Minute Meals
and it only took about 10 minutes because the instructions were to put all the ingredients onto a wooden board and to chop them all up together. Meanwhile the bread is put in the oven to warm up. We had some shaved ham in the fridge so I threw that in – you might be able to see it in the photo – but that's not in his original recipe. I also made a coleslaw from cabbage, red onion, zucchini and carrots dressed with oil, lemon juice, salt, pepper, red chili and coriander.
This is a good hearty meal with an excellent combination of flavours and a really quick dinner. What's not to like?
 This is not a low Fodmap recipe.
Stuffed Focaccia – Jamie Oliver 30 minute meal
Author:
Suzanne Perazzini
Ingredients
1 x 400g focaccia loaf
1 x 450g jar of peppers
1 tsp capers, drained
6 sun-dried tomatoes in oil
1 fresh red chilli
2 tomatoes, chopped up
3 or 4 cornichons
Small bunch of fresh mint
½ a lemon
Parmesan cheese, for grating
Method
Put the focaccia into the oven to warm for around 15 minutes.
Put the jarred peppers, capers, sun-dried tomatoes, the red chilli, tomatoes and cornichons on a chopping board.
Pick the leaves from the mint.
Finely slice the chilli, then chop and slice all the filling ingredients together on the board and sweep into a bowl.
Add a lug of extra virgin olive oil, squeeze over the juice of the lemon, then scrunch and mix together with your hands.
Take the focaccia out of the oven. Carefully halve it across the middle with a sharp serrated bread knife and open it like a book.
Spread the pickle filling over the bottom half, drizzle over any juices left behind in the bowl, and finely grate over a good layer of Parmesan.
Put the top on the sandwich and take it to the table.