Many folk become almost reclusive with irritable bowel syndrome and fear going out to eat and so their social lives suffer. They equate food with pain and embarrassment so an invitation to eat out instils the fear of the devil in them. And then they discover the low Fodmap diet and they struggle along with it, restricting their diet further and further because of a lack of knowledge, and the idea of eating out creates visions of a bowl of steamed white rice and nothing else. This couldn't be further from reality as long as you take a few precautions and plan the evening. In my video, I have addressed how to overcome the issues surrounding attending a cocktail party without having an episode that leaves you distraught and swearing to never eat out again.
Video
Transcript
How do I cope at a cocktail party?
Welcome to this video. Today we are going to talk about what to do if you are invited to a cocktail party and you are on the Low FODMAP Diet. You don't want to ruin your diet just for the sake of one evening. So here are just a few precautions that you have to take so that you can still enjoy the event.
Alcohol
First and foremost, you have to really limit your alcohol. One of the main ingredients of a cocktail party is alcohol, the other being food. So, really as you know from one of my other videos, you should be limiting yourself to one glass of dry wine. One way to spread that out is to add ice cubes to your glass. If you add enough of those then you can actually have two glasses of wine, and you just feel like you're drinking a bit more, but at the end of the day you're drinking exactly the same amount, just the one full glass. You can have spirits, but again just stick to one and be very careful about what you put with the spirit. It's the carbonated drinks, – they're sugary -that can create a problem.
Punch
Also, be very careful of the punch that most cocktail parties have, because most of it is not just full of alcohol, but it's full of fruit, and some of that fruit might be high FODMAP and cause a problem, and a lot of it will be carbonated. They often add a bottle of tonic water or something like that, or lemonade. So I would definitely stay away from the punch and just sip slowly on your drink. Nobody's really going to notice what you're doing, they're too busy talking and having a nice time to worry about your situation.
Food
Now, as to the food, a variety of finger food will pass you by for sure. Waitresses will be walking around the cocktail party with all this delightful food. You do have to really be very careful of those little wee nibbles because a lot of them are highly flavored and the flavor often comes from garlic and from onion. You're quite within your rights to ask them what is in each little delectable piece, because with a cocktail party, there are going to be a lot of people there with different food intolerances. So often now, the wait staff does know what's in the food they're carrying around. I mean, if not, you could ask them to go and check with the chef. Otherwise, if you're a little bit suspicious of one, just don't eat it. For sure there will be something there that you can eat, but a really good tip is to make sure that you eat before a cocktail party so you're not so hungry that you're tempted to make those mistakes and you can choose really wisely. The other thing is what you should always do anyway if you're on the Low FODMAP Diet is have some snack food in your bag. You can go outside onto the balcony, or you can just go to the toilet or wherever and just eat a little bit of that if you feel that you're getting really hungry and tempted to eat what's passing you by.
The worst scenario is when you're hungry, so do make sure that you go to the cocktail party with your stomach a little bit full. It doesn't have to be a full meal, but you can always eat afterwards as well. Once you've got those little precautions in place, you can relax and just enjoy the cocktail party and chat with your friends and all the newcomers that you'll meet. Thank you for watching, and goodbye.

---
Potato Bacon Salad
Here is another potato recipe from the little green book I created while living in Italy. It is a simple tasty salad that includes just potatoes and bacon with a nice hot dressing that soaks in and infuses them with gorgeous flavour.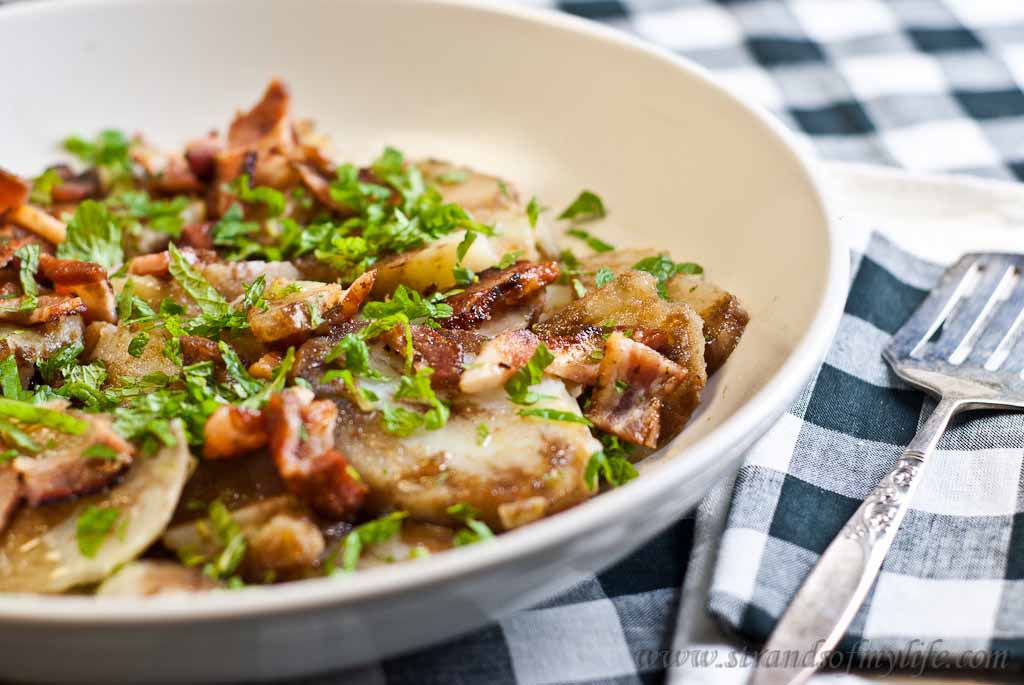 Low Fodmap Potato Salad
Author:
Suzanne Perazzini
Ingredients
4 medium potatoes
5 slices of bacon
2 dsp balsamic vinegar
2 dsp olive oil
Salt & pepper
Fresh mint
Method
Boil the potatoes in their skins and peel afterwards.
Cut into slices and layer on a plate or shallow bowl.
Trickle over the oil and season.
Heat the vinegar and pour over the potatoes.
Fry or grill the bacon and cut into pieces.
Scatter over the potatoes.
Chop up the mint and sprinkleover the top.