The Video
If you have irritable bowel syndrome and are a vegetarian, then it is more difficult for you to be on the low Fodmap diet but it is not impossible. Watch my video to find out what sources of vegetarian protein you can eat and still be healthy on the low Fodmap diet.
Thank you to one of my readers for submitting this question about how to be a vegetarian on the diet. I am open to your suggestions for videos at any time. You can tell me in the comments or just go to my contact page and send me a private message.

Transcript of the Video – Vegetarian on the Diet
Is it possible to be a vegetarian on the low Fodmap diet?
Soya
So you're a vegetarian and you have IBS and you need to follow the low FODMAP diet. Now, because the FODMAPs are in plant-based foods – apart from lactose, which is in dairy products – this of course makes it slightly difficult because you're eating a plant-based diet. But it's not impossible. The important thing is for you to get enough protein, since you're not eating chicken, fish and red meat. Let's see how you can do that. There is protein in plant-based foods, in particular soya beans. Soya beans are actually high in oligosaccharides, which is one of the FODMAPs. So mostly you have to avoid them, but there are some products – soy products – that you can eat. For example, tofu. In the process of making the tofu, the FODMAPs actually come out into the liquid, and so it is low in FODMAPs and it's high in protein. Also tempeh, it's fermented from the soya beans, and so that's low in FODMAPs as well because the fermentation has already taken place and it won't take place inside your body. Also, soya milk, as long as it's made from the soya protein, and not from the whole beans, so you will have to check that. But that could be a good source of protein for you.
Grains & Nuts
There are also some grains which are high in protein. For example, quinoa, amaranth, and oats. So those are the ones that I would put more focus on than perhaps the other grains in your diet. Also, nuts and seeds. Nuts, we can have most of them, but we can't have pistachio and cashews, and we have to limit almonds and hazelnuts to ten. They're a very good source of protein, so something like peanut butter and almond butter are also – just don't have too much of the latter because, as I said, that is limited.
Legumes
Now, some of the legume family also are low enough in FODMAPs for us to eat. The majority are too high in galacto-oligosaccharides. But, for example, you can have half a cup of lentils as long as they are canned, and you drain them, and wash the lentils, because most of the FODMAPs have gone into the liquid that's been in the can. If you want to boil them from fresh, you can only have a quarter of a cup though because not quite so many of the FODMAPs come out. Chickpeas, you can have the half a cup, the same – canned, and drained, and then washed to get most of the liquid off where the FODMAPs are. So, they are a good source of protein that you were probably eating before but maybe in large amounts which were causing you problems.
How to Plan a meal
So, there you go, that's a lot of different ways of getting protein, and when you plan your meals just make sure that you plan the protein part first, and then the rest of it can fall into place around that. Make sure, if you can, that you get protein at every meal, at least at every main meal but I would suggest even at the snacks in between. For example, if you had some gluten-free bread, which has perhaps got some of the quinoa or the oats or the amaranth in it, and then put peanut butter on that, that's going to give you a good hit of protein. For lunch, you could have some quinoa with some lentils, perhaps, and that will give you another hit of protein. Of course, add in some vegetables as well. For dinner, maybe some tofu or some tempeh. You probably have enough protein in your day just from what I have said. Now, how much protein you need in a day depends on your weight and how many calories you need to maintain a healthy weight. For example, somebody who needs 1,800 calories, they need about 45 grams of protein a day. So you would calculate that according to your own weight and your own needs, because your needs depend on how much exercise you do as well and your metabolism and so on. But protein is so essential for our health, for our muscles, our skin, our hair, our nails and our internal organs. We absolutely need it so that is something to focus on. Then get as wide a variety of low FODMAP vegetables as possible. If you think about that in terms of colour, the different colours give you different nutrients. So if your plate is full of colour, then you're going to be getting a lot of different nutrients.
There you are, it's not impossible to be a vegetarian on a low FODMAP diet, but you do have to work a little bit harder at it. Thank you for watching and goodbye.

---
Oat & Blueberry Cookies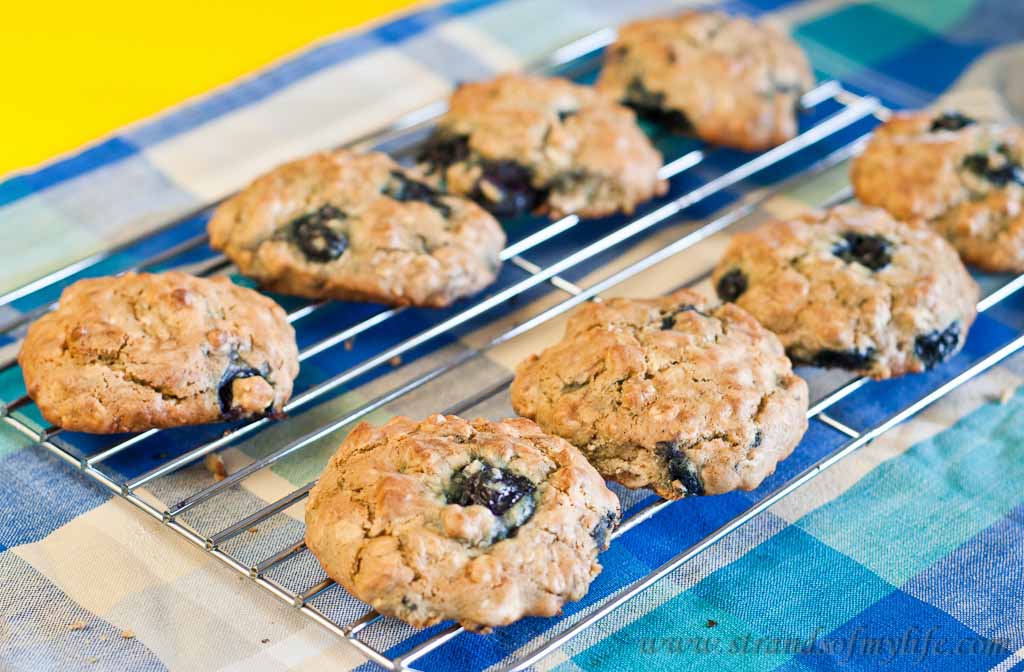 I have a busy social weekend ahead and need some goodies as an offering so I put together these cookies with blueberries and oats. I left them in the oven too long and they turned out a bit dry so don't make that mistake. They are good wholesome cookies which will give you a decent hit of fibre through the oats and blueberries. Fibre is something which those with IBS have to watch carefully. We need it just as much as anyone else and yet fibre is a gut irritant and so we have to walk a fine line with it. We walk lots of fine lines with IBS and that is just one of them.

Oat & Blueberry Cookies - Low Fodmap & Gluten-Free
Author:
Suzanne Perazzini
Ingredients
¼ cup butter
¾ cup peanut butter
2 eggs
¾ cup brown sugar
1 tsp vanilla
¼ cup potato starch
¼ tapioca flour
¼ cup white rice flour
1 tsp baking soda
Pinch of salt
1.5 cups dried oats (use the fine ones)
1 cup blueberries
Method
Heat oven to 180°C/350°F.
Place the first 5 ingredients in a food processor and process until well mixed.
Sift the next 5 ingredients together in a bowl.
Add the oats and mix well.
Add the wet ingredients to the dry and fold in together.
Fold in the blueberries to distribute evenly.
Place spoonfuls onto baking paper which you have placed on a baking tray. (They will spread a little.)
Bake for 10 minutes (depends on how big your cookies are.)
Place on a cooling rack and eat fresh.