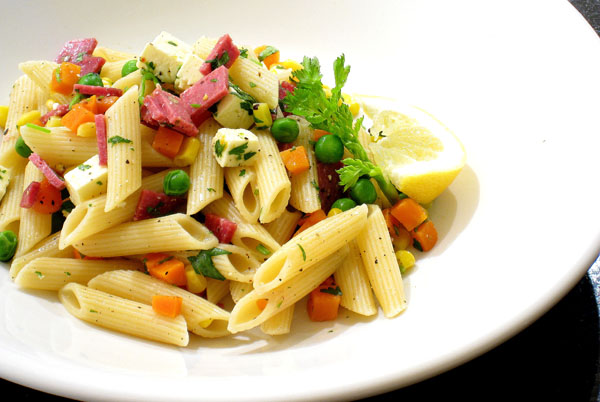 Some nights, after a day at work and my half hour on the exercycle, I feel like nothing more than to sit down at my computer and go through my emails, then check out all my favourite blogs but instead I have to cook dinner. Knowing that I will photograph it and then blog about it, does help but sometimes I want dinner to be instantaneous. Well this dinner is next to instantaneous. The pasta cooks by itself and the veges get popped into the microwave, a bit of cutting up and the meal is done.
This is not a low Fodmap recipe.

Warm Pasta Salad
Author:
Suzanne Perazzini
Ingredients
Penne pasta
Coriander - chopped
Juice of 1 lemon
Olive oil
Salt & pepper
200g feta cheese
100g salami
500g frozen mixed vegetables - diced
Method
Cook the pasta and drain.
Microwave or boil the frozen vegetables.
Chop up the salami, coriander and feta.
Mix it all together and dress with olive oil, lemon juice, salt and pepper.