I have made these cookies before here but this time I changed the dried fruit and chocolate ingredients. I consider it one of my best granola bar/cookie recipes to date and so, when I was sent a bar of Whittakers' white raspberry chocolate, I decided to make them again and incorporate some of the bar. I say "some of the bar" because by the time I got around to do the baking, Adriano and Dario had almost demolished the bar. They swear I hadn't said to keep their hands off it, but I know better.
Whittakers sent me the chocolate as part of a promotion to advertise that 20% of the profits of this newly developed flavour go to Breast Cancer research. I agreed because I wanted to eat the chocolate and it was certainly no hardship to include it in a recipe. The 20% to breast cancer is a fortunate by-product since this is truly a cruel killer of women. Get your checks ladies and stay out of the statistics.
As for the recipe, I doubled it to make sure we wouldn't run out of them during the week. I put in dried pineapple, dried cherries and dried apricots because that's what I had in the fridge and they add a lovely tartness to the cookies and balance the sweetness of the chocolate. Though actually the white raspberry chocolate had the raspberries to do that all by itself. For those of you who love white chocolate, give this one a try. I liked it and certainly the other family members couldn't keep their thieving mitts off it.
Disclaimer: I was gifted one bar of this chocolate but the opinions are my own and I was not paid (except in chocolate) to say I liked it. But who doesn't love chocolate anyway.
This is not a low Fodmap recipe.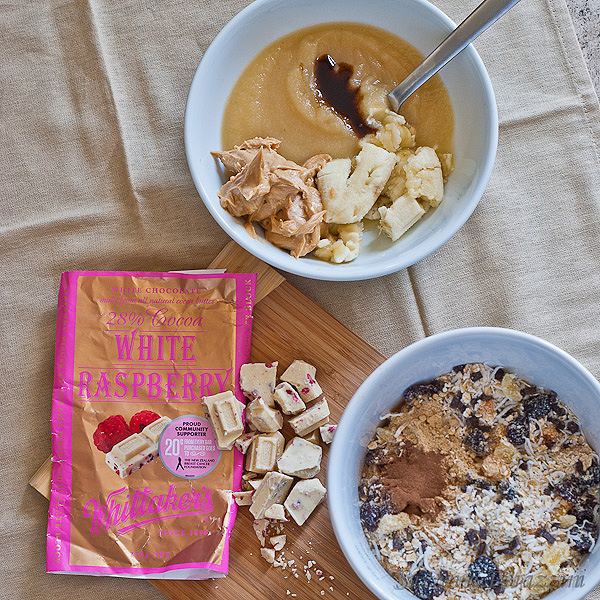 White Raspberry Chocolate Cookies
Author:
Suzanne Perazzini
Ingredients
1 cup rolled oats
1 cup almond meal
1 ½ cup applesauce
½ cup banana (mashed)
½ cup peanut butter
1 tsp cinnamon
1 tsp ginger (powdered)
1 tsp pure vanilla extract
¼ cup dried pineapple
½ cup dried cherry
¼ dried apricot
¼ dark chocolate chips
¾ cup of white raspberry chocolate
5 tbsp shredded coconut
Pinch of salt
2 tbsp brown sugar
Method
Preheat the oven to 350°F/180°C.
Mash the applesauce and banana with the peanut butter and vanilla.
Mix all the other ingredients in a second bowl.
Mix the wet with the dry.
Place 24 cupcake holders in muffin tins and spoon a tablespoon of batter into each one.
Bake for 10-15 minutes.
If you want, you can drizzle them with a little extra dark chocolate or runny white icing or even both like I did.