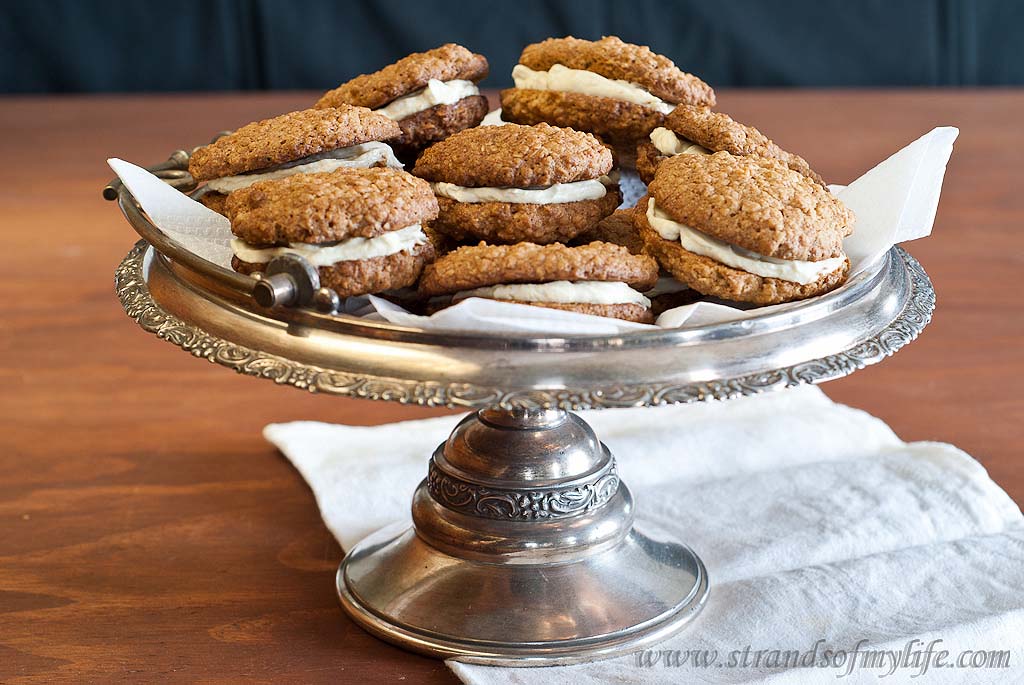 I don't need to do nearly as much baking at the moment with Adriano away so I only made these cookies this weekend and they were pretty simple. They are quite plain so I joined them together with a cream cheese mixture to keep them interesting.
Last night, Dario stayed over at his girlfriend's house so I was alone at home which is a rare occurrence and one I am not used to. Every creak and crack of the house made me jump and I checked the doors more than once. It made me realise how vulnerable we are in our houses here in New Zealand. In Italy, where I lived for nine years, the doors have multiple locks and the windows have shutters which get shut at night and when you go out.  Here, we lock up of course but our locks are often inadequate and our windows are easily broken. Most home invasions are because  a window is left open or because someone opens the door to a stranger but that is not always the case. As a nation, we are not nearly as violent as many countries but we are not completely safe either and bad things do happen. I have a vivid imagination and that doesn't serve me well when I am home alone at night. Anyway, I woke up in the morning in one piece so all is well.
Oh and, if you look over to the right, you will see I have redesigned the cover of my cookbook, Afternoon Tea. I hope you like it's new look.
[print_this]
Oatmeal Whoopie Pies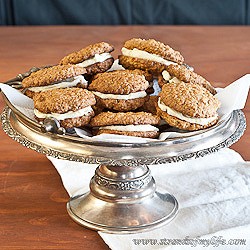 Ingredients
170gms/6oz soft butter
2/3 cup brown sugar
1 egg
1 tsp vanilla
1/4 cup white rice flour
1/4 cup tapioca flour
1/4 cup potato starch
1/2 tsp baking soda
1/2 tsp salt
1/2 tsp cinnamon
2.5 cups of rolled oats
For the filling:
100gms/3.5oz cream cheese
1 soft banana
Method
1.  Preheat oven to 180°C/350°F.
2.  Line a baking tray with baking paper.
3.  Cream the butter and sugar until light and fluffy.
4.  Add the egg and vanilla and beat some more.
5.  Sift the dry ingredients, except the oats, together.
6.  Add the flours to the butter mixture.
7.  Add the oats and mix well.
8.  Spoon spoonfuls of the mixture onto the baking paper and mold into flattened circles. Leave a space between because they will spread a little.
9.  Bake for 8-10 minutes,
10. Cool a while to firm up and then remove from the tray to a cooling rack.
11. Place the banana and cream cheese in a food processor and process until smooth.
12. Spread the cream cheese over half the cookies and top with the other halves.
[/print_this]
Related posts: