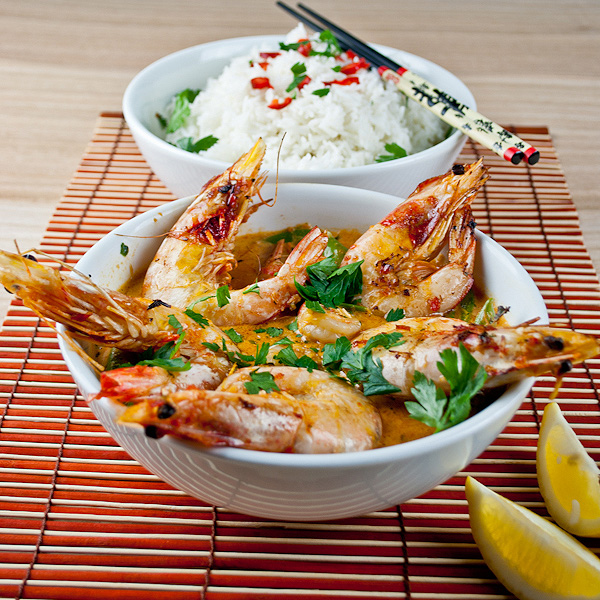 This second recipe from Jamie's 30-Minute Meals
is stunning. The flavours were so delicious I well and truly over-ate. This time I got all the ingredients and equipment ready the way he says in the instructions and I managed to shave some time off. In fact, it took around 45 minutes but I have to admit that once again I didn't do the dessert or the accompanying cucumber dish because I don't like cucumber. I am already learning to work more economically with my time and to be more efficient. One day in the future I will get one of his recipes down to the required 30 minutes. I have plenty more to practise with.
[print_this]
THAI RED PRAWN CURRY WITH JASMINE RICE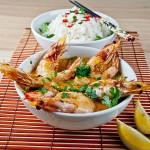 INGREDIENTS
RED CURRY
• 2 stalks of lemongrass BUY HERE
• 1 fresh red chilli
• 2 cloves of garlic
• Optional: 4 kaffir lime leaves BUY HERE
• A bunch of fresh coriander
• 2 jarred red peppers in oil BUY HERE
• 1 heaped tsp tomato puree BUY HERE
• 1tbsp fish sauce BUY HERE
• 2tbsp soy sauce BUY HERE
• 1tsp sesame oil BUY HERE
• 2cm (¾in) piece of fresh ginger
• 8 large unpeeled raw tiger prawns
• 200g (7oz) sugar snap peas
• 220g (7½oz) small cooked prawns
• 1 x 400g tin of coconut milk BUY HERE
• 2 limes, to serve
• 1 bag of prawn crackers, to serve BUY HERE
SEASONING
• Olive oil BUY HERE
• Sea salt and black pepper
JASMINE RICE
• 1 mug of basmati rice BUY HERE
• 2 jasmine tea bags or 1 jasmine flower BUY HERE
METHOD:

TO START: Get all your ingredients and equipment ready. Turn the oven on to 200C/ gas 6. Fill and boil the kettle. Put the standard blade attachment into the food processor.
JASMINE RICE: Put a medium saucepan on a medium heat. Add the mug of rice, a pinch of salt, a splash of olive oil, the 2 jasmine teabags or flower, and cover with 2 mugs of boiling water (use the same mug you used for the rice).
Cover and cook for 7 minutes, then take off the heat and leave to steam with the lid on for 7 minutes.
RED CURRY: Put a frying pan on a medium heat. Trim the ends and tough outer leaves of the lemongrass stalks, bash up the stalks with the side of a knife, then put into a food processor with 1 fresh red chilli (stalk removed), 2 peeled cloves of garlic, 4 lime leaves, a bunch of coriander, 2 jarred red peppers, 1 heaped tsp tomato puree, 1tbsp fish sauce, 2tbsp soy sauce and 1tsp sesame oil. Peel and add 2cm (¾in) fresh ginger.
Blitz to a paste – you might need to stop and use a spatula to scrape down the sides so it all gets whizzed up. Drizzle some olive oil into the hot frying pan and add the unpeeled raw tiger prawns. Fry for around 1 minute, then add 1tbsp of the curry paste and fry for 1 more minute.
Tip into an ovenproof dish and put into the oven on the top shelf for about 8 to 10 minutes. Put the pan you cooked the prawns in back over a medium heat.
Drizzle in a little olive oil, then add the sugar snap peas, then the small prawns. Spoon in the rest of the curry paste, and stir and fry for a minute or two before adding the coconut milk. Stir as it melts down, then leave to simmer on a medium to low heat.
TO SERVE: Taste the curry and correct the seasoning with a few drops of soy sauce, if needed. Scatter over the reserved coriander leaves, then take to the table with the dish of prawns from the oven.
Cut the remaining limes into wedges for squeezing over. Put the prawn crackers into a serving bowl, and take to the table.
Fluff up the rice with a fork, then take to the table. Toss and dress the cucumber salad. Dish up the rice, ladle over the curry and divide the large prawns between everyone.
[/print_this]
Related posts: