The Video
The low Fodmap diet is complicated and it takes mental strength to implement it correctly and to stick it out until you get the amazing results that are possible. In my video, I tell you the 4 traits of mental strength required to eliminate IBS symptoms fast.

The Transcript
The 4 Traits of Mental Strength Required To Eliminate IBS Symptoms FAST
Why is mental strength important
Because I know many of the people I speak to every day feel beaten down by the symptoms of IBS and don't know how to change their circumstances. I felt like that for years too and I understand not being able to see the light at the end of the tunnel. I didn't even know a light existed back then. But it did, and does for you too!
But what are the costs of remaining disempowered? What is your life like while you are in this frame of mind, living beaten down? That hopelessness, the humiliation and desperation, not to talk of the physical pain.
So what are the benefits of creating or resurrecting the necessary mental strength? What could life look like when you're free of IBS and living a normal life? Can you even imagine that anymore? That joy, that freedom from worry, the ability to be spontaneous?
What is mental strength?
Many would say mental strength is a masculine quality and maybe it is but what do you think is needed to raise & discipline children, keep all the millions of threads of family life from getting tangled, working and maintaining a career? That takes mental strength so you do have it. Mental strength is always within your grasp…however when it comes to living with IBS, if you don't see any hope of relief you can forget you even have that strength!
I've discovered my very best clients have these specific traits and qualities…
• they know what they're looking for in advance and want results
• they are willing to commit – people who commit quickly get the fastest results
• they are willing to follow the directions of a proven system and not fight against it
• they do the work and don't complain about what is needed to achieve the results
Let's look at how to gain mental strength.
How can you align yourself with mental strength when it comes to dealing with IBS?
I have an exercise for you: Write down all the areas of your life where you're currently demonstrating mental strength – where you're already disciplined.
Just from my observations, these qualities spill over into the type of results my very best clients get! And their results are nothing less than life changing!
I have noticed that there are men who demonstrate these qualities and they get some of the very best results without putting themselves through a lot of anguish.
Women can get just as good results but I have noticed some of them make it harder on themselves than necessary. This exercise is my way of sharing with you how you can empower yourself and start towards the first step of eliminating IBS.
So just to recap:
Write down all the areas of your life where you're currently demonstrating mental strength – where you're already disciplined. That's your exercise to empower you.
What can you expect when you demonstrate mental strength?
Just look at what these clients with the mental strength necessary have experienced.
First the men:
Ed wrote: "After day one of being on the program, I felt much better. I was amazed how quickly it worked. I have not had any major IBS symptoms in the four months since starting the Low Fodmaps Diet to the time of writing this. I am a new man!"
Aidan wrote in an email – he's just finishing up the program
"I am feeling the best I have felt in easily 10 years. I have energy again and feel like I am getting value from food again after all these years. Pretty amazing!"
Dave wrote: "On Saturday my wife and I took a 3-hour drive to the ocean. This is the first recreational drive beyond 15 minutes that I've taken in the last 2 years. We are planning additional trips. I have much more energy. I am working much more. I had a business lunch with a client last week and it went just fine. I could cry."
And now to the women:
Kelly wrote:
"For the first time in my life I am not in pain after every meal and I feel more energized and healthy than ever before!"
And this one from Sylvia:
"Now I have a different tool kit that better suits the job, I've been able to repair and rebuild a very sick body, improve my mind set and family life. Saying I'm grateful is an understatement."
And then from Sue:
"I am totally happy with how I have felt. I have been walking the dog without fear! Being fearless about going out is such a great feeling. I have been walking with confidence. Over the years I have noticed my freedom slipping away, and losing the ability to be outdoors has been a great loss to me. The freedom to be mobile again without fear is a prayer answered and so is this diet. I'm putting my health first which is a rarity. I haven't felt this good in years!"
Natalie said simply: "The funny thing is you don't realise the extent of your 'suffering' until you are feeling good and then you wonder why you didn't do something much sooner!"
If you too want similar results, invest in yourself and use that mental strength you know you have to lick this beast once and for all, and quickly. Fill in the application form here https://www.strandsofmylife.com/inspiredlife/ to start the process. Once I receive this form and you schedule your complimentary phone call, I will call you. This call is obligation free and won't cost you a cent. Why not start the process towards living a life you love without IBS symptoms now? Even the sky won't be the limit. I and my clients are a testimony to that.
I want to help you reach the best truest expression of yourself without the pain of IBS.
---
Chicken and Rice Soup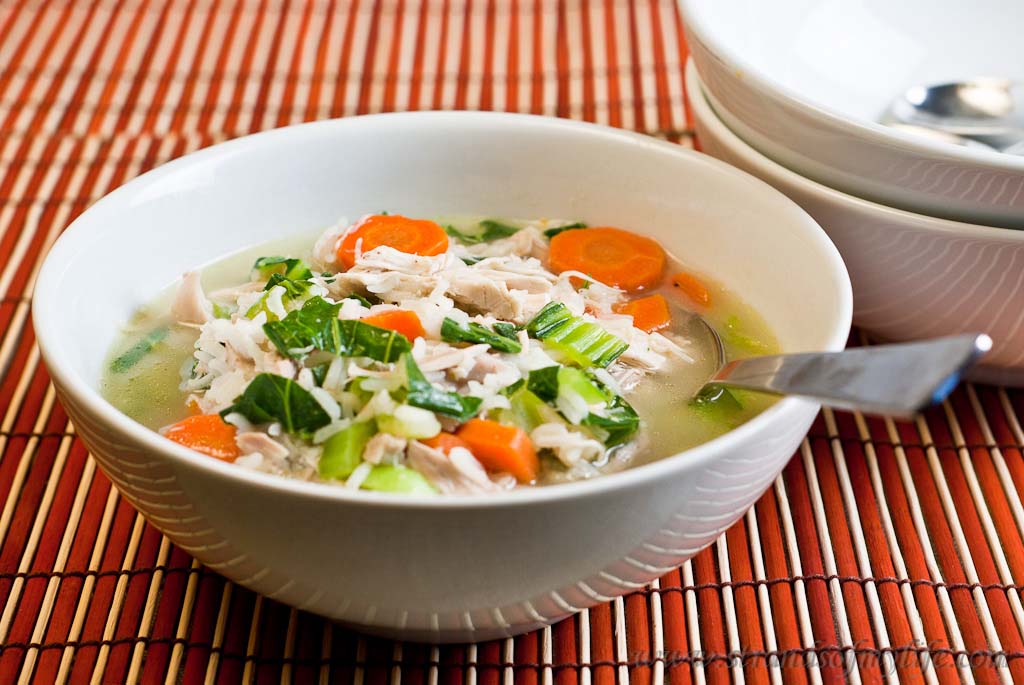 I love the simplicity of this dish and I had some leftovers for lunch the next day too. Clean foods cooked from scratch always trump more complex processed foods. Not just for those of us with IBS but for everyone. You can vary the flavours by adding different spices to the broth before cooking the chicken, and you could sprinkle with some fresh chopped up herbs. Coriander (cilantro) would be perfect.

Chicken and Rice Soup – low Fodmap and gluten-free
Author:
Suzanne Perazzini
Ingredients
1 free-range chicken
1 bayleaf
10 peppercorns
3 crushed cardamon seeds
1 carrot chopped up
1 stick of celery, chopped up
3 spring onions, green part only chopped up
Salt and pepper
1 cup of rice
Bunch of bok choy
Method
Place the chicken in a saucepan filled with water and add the next 7 ingredients.
Bring to the boil and simmer for about an hour until the meat is falling off the chicken.
Remove the chicken and pull apart into small bites of chicken.
Sieve the liquid into a second saucepan and bring back to the boil.
Add the rice.
When the rice is 5 minutes from being cooked, add the chicken back in and the vegetables including the bok choy chopped up. Make sure you remove the peppercorns, bayleaf and cardamon pods from the carrots etc.
Finish cooking, season and enjoy.