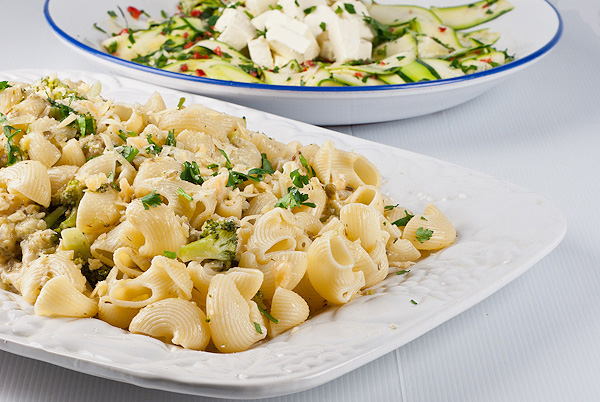 This one of Jamie's 30-Minute Meals
took about 40 minutes but again I didn't make one of the components because it seemed an over-kill.He added a prosciutto and melon salad but I felt the pasta dish and the courgette salad were plenty and they were. In fact, for once we had leftovers, which is almost unheard of in our family. The original courgette salad had bocconcini but Adriano couldn't find any and so I used feta. I think the feta actually worked better than the bocconcini would have because the feta supplied a stronger flavour against the mild courgettes. The salad was excellent. The pasta was also very tasty but had anchovies which I can take or leave but I used them to stay authentic to Jaime's recipe and they did add something to the flavour. But I am sure they could be left out.
This is not a low Fodmap recipe.

Broccoli Orecchiette and Courgette & Feta Salad - A Jaime Oliver 30-Minute meal
Author:
Suzanne Perazzini
Ingredients
For the pasta
125g parmesan
1 large head of broccoli
30g anchovies in oil
1 heaped tbsp capers
1 small dried chilli
3 cloves garlic
Fresh thyme
500g dried orecchiette or similar pasta
For the Salad
Mint
½ fresh red chilli
1 lemon
200g courgettes
125g bocconcini or feta
For the Seasonings
Method
For the Pasta
Trim the rind off the parmesan and reserve.
Grate the rest in the food processor and put aside.
Slice the florets off the broccoli, break up and reserve.
Fit the standard cutting blade to the processor and add the stalk of the broccoli cut up a little. Add the anchovies, crushed garlic, capers and chilli. Pulse to a paste.
Place in a frying pan with some olive oil and thyme and add a wine glassful of water and the parmesan rind for flavour. Let cook.
Boil the kettle and fill a pot with the water, add salt and the pasta.
Boil for 6 minutes and then add the broccoli and cook for a further 6 minutes.
When cooked, drain, remove the rind and add the pasta and broccoli to the sauce.
Add ½ the parmesan and mix.
Place on a plate or in a bowl and scatter the rest of the cheese on top.
For the Salad
Mix directly onto the serving plate the chopped mint, chilli, grated lemon rind, seasoning, juice of ½ the lemon and 3 tbsp olive oil. Mix all together.
Make ribbons from the courgettes using the potato peeler.
Place them on top of the mint/chilli mixture and blend all together.
Make a space in the middle and place there the feta or bocconcini.