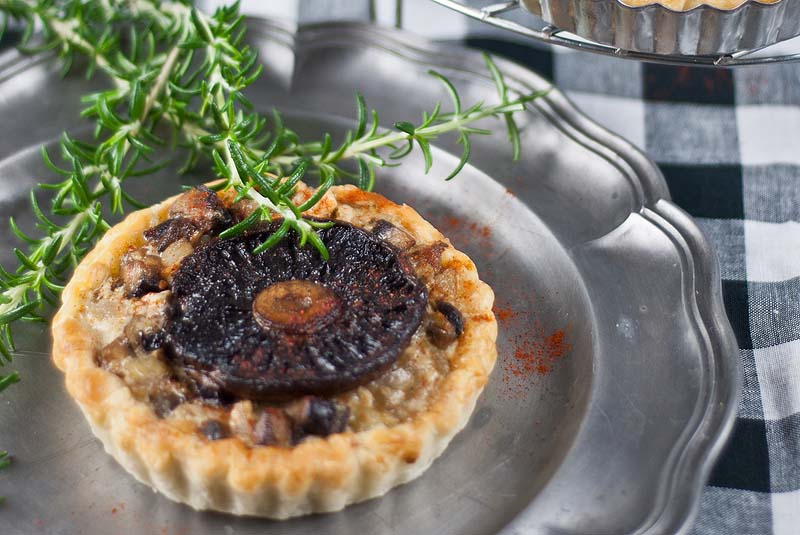 Left-over chicken and a desire to make tarts resulted in the above works of art. Small tarts like this always look so pretty, it seems like a sacrilege to eat them but eat them we did. I forgot to tell Adriano to buy the creme fraiche so ours were made with milk instead. They were just fine like this but the creme fraiche would make them richer. For a vegetarian version, these would work without the chicken.
This is not a low Fodmap recipe.

Chicken, Mushroom and Rosemary Tarts
Author:
Suzanne Perazzini
Ingredients
375g/13.25oz savory short pastry
8 portobello mushrooms
1 cup chopped up cooked chicken
2 tbsp butter
1 onion finely chopped
1 tbsp red wine vinegar
2 eggs
200ml milk or creme fraiche
½ cup grated Parmesan
Rosemary
Method
Preheat oven to 200°C/360 °F.
Line 4 x 12cm tart pans with pastry and bake blind for 15 mins.
Remove the pans from the oven and take out the weights.
Reduce the oven to 180°C/350°F.
Reserve 4 mushrooms and finely chop the remainder.
Melt the butter in a pan and add the chopped onion, cook gently until clear and add the mushrooms.
Also cook the whole mushrooms a little separately.
When they are tender, add the chicken and vinegar, allowing it to bubble.
Remove from heat and cool a little.
Mix together the eggs, Parmesan and milk.
Chop up finely a few rosemary leaves and add to the mixture.
Add the cooled mushroom mixture.
Pour the filling into the pastry shells and top with a mushroom.
Bake for 15-20 minutes until the tarts are golden and just set.