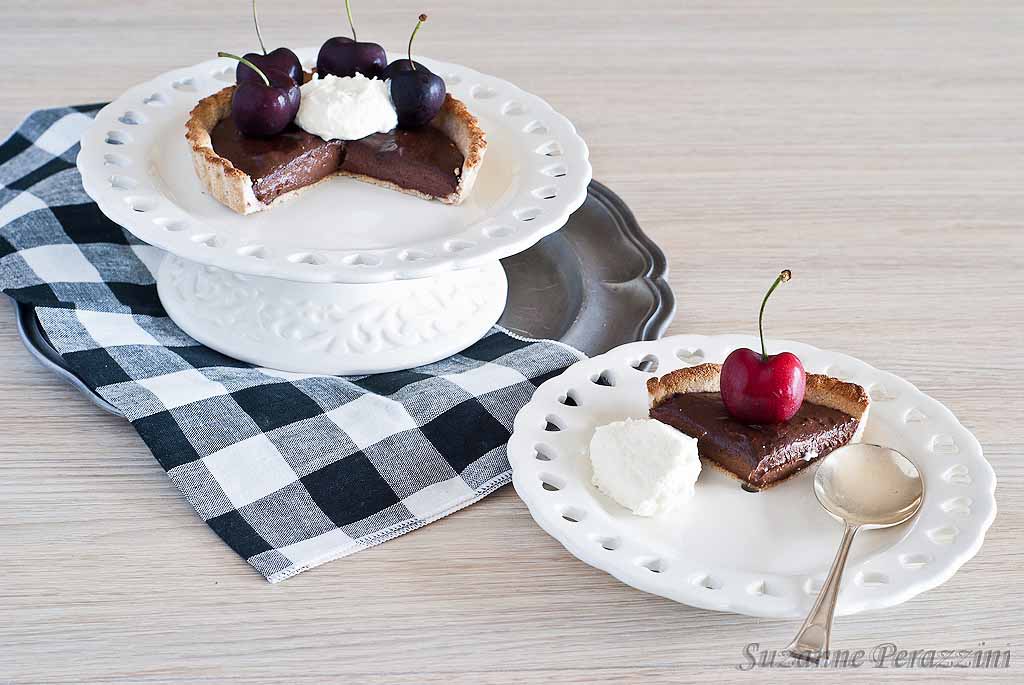 A few days back I made this tart using the base I found in Carol Lovett's e-book, Indulge, which I mentioned in my last post. I have been looking for a good grain and nut-free pie crust which didn't fall apart and this is it. It was so easy to make – I actually used a food processor and it all came together like a dream. I didn't attempt to roll it out but just pushed it into the pie dishes and that worked well. This is the second recipe I have made from Carol's book and I am very pleased with it. If you are interested in the book, Click here to visit Ditch The Wheat and scroll to the bottom of the page to buy it.
I filled it with the simplest of dairy and sugar-free fillings – uncooked banana, cocoa and coconut oil. Even out of the fridge it holds its shape well and the filling stays firm.
I would say this was a triumph and the tarts look so pretty. I actually had all the ingredients in the house and it was all done and dusted in very little time. This would be a great dessert for any gluten-free friends and would satisfy the non-gluten free as well.
This is NOT a low Fodmap recipe.

Chocolate Banana Tart
Ingredients
For the pie crust:
2 tbsp coconut oil
1 tbsp honey
2 large eggs
¼ cup + 2 tbsp coconut flour
⅛ tsp salt
For the filling:
2 tbsp date puree
3 ripe bananas
2 tsp vanilla
¼ cup coconut oil
¼ cup + 2 tbsp cocoa powder
Method
For the pie crust:
Preheat oven to 350°F/180°C.
In a bowl, cream the oil and honey until smooth.
Add eggs and beat until smooth.
Add the dry ingredients and mix until well incorporated.
Press the dough into a pie dish or 4 tart dishes.
Bake 10 minutes or until done.
For the filling:
Place everything into a food processor and puree until smooth.
Pour into the cooled pie tart(s).
Decorate with a little grated unsweetened chocolate and fruit such as cherries or berries.
Serve with whipped cream, or coconut cream if you want it completely dairy-free.