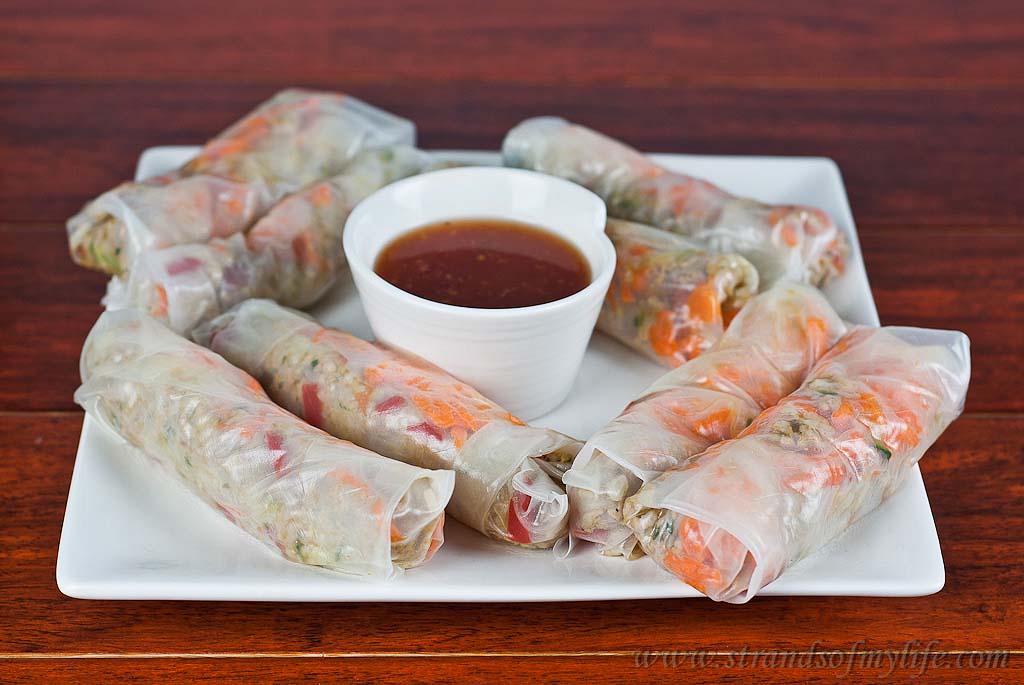 This is what we had for dinner tonight. It is the first time I have used rice papers and they worked better than I expected. At the end of the day, they are just a vessel for whatever you want. I love Thai flavours so that's what I created but I have heaps of rice papers left over and will use them quite differently next time.

Thai pork in Rice papers
Ingredients
Rice Papers
400g/14oz pork mince
1 red chilli
½ red pepper
1 courgette
1 carrot
A small knob of ginger
1 tbsp soya sauce
1 tsp fish sauce
Salt & pepper
For the dipping sauce
2 tbsp sweet chilli sauce
2 tsp fish sauce
2 tsp rice vinegar
Method
Chop finely the red chilli and red pepper.
Grate the ginger.
Peel and grate the carrot.
Grate the courgette.
Heat a little oil in a frying pan and add the red chilli and ginger.
Cook for a few minutes.
Add the red pepper and cook 1 minute.
Add the mince and cook until browned.
Add the soya and fish sauces and season to taste.
Wet the rice papers as per the instructions on the packet.
Place a strip of the pork mixture and the grated carrot on each paper and roll up tightly.
Serve with the sauce.
For the sauce
Mix all the ingredients to combine.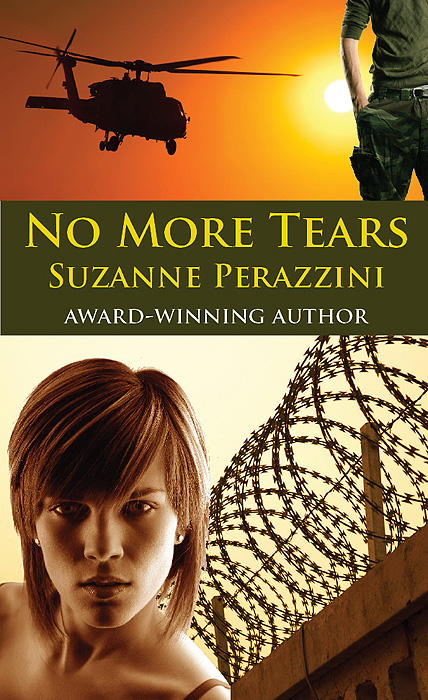 I have just published my second novel:
No More tears
. This is a summary of the story:
Driven by a tragic childhood memory, Lori Austen goes to set up an orphanage in Iraq, where she is taken hostage by terrorists. She struggles to find the strength to endure the isolation and brutality of the terrorist leader, Ahmed.  Her physical survival is closely linked to her emotional state as she is moved from place to place in an effort to keep her one step ahead of a covert American extract team.
Jeff, the leader of the extract team, fights his own inner battles. While on his first mission in Italy during the days of the Red Brigade, his entire team were killed. Survivor's guilt and an obsession with terrorists drive his choices in life.
Back home in America, Lori's powerful parents are battling the leader of the Anti-terrorist department, Edmund, who has his own set of issues of loneliness having lost his family through his dedication to his job. Lori's parents want to pay the ransom but America doesn't negotiate with terrorists.
When Lori feels she can endure no more, she reacts against her captors and finds an unexpected source of help from within the terrorist camp. The final encounter between the terrorists and the extract team is bloody and ultimately cleansing for Lori and Jeff as they struggle to find a way to come to terms with their pasts.
If this sounds of interest, you can buy the kindle version for just $2.99 here.