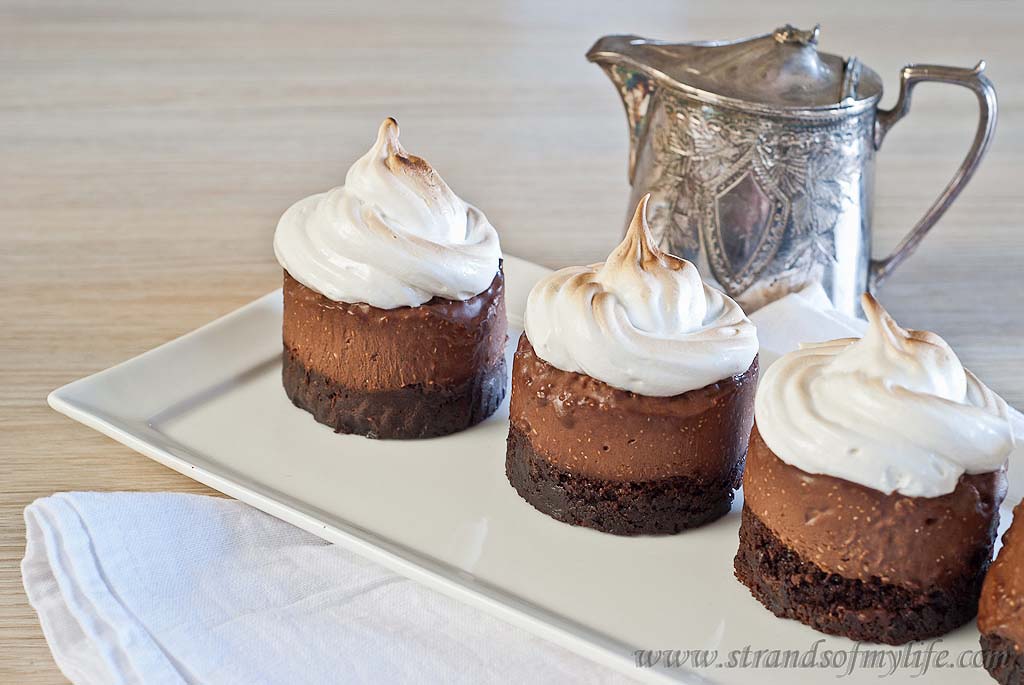 And another weekend is drawing to a close. I suspect I have not made enough baking to keep us going all week because I made four individual desserts instead since I got this idea for another layered beauty. This time it is a brownie base, recipe HERE, a chocolate mousse layer, recipe below, and a whipped meringue topping, recipe HERE. I had just a slice off one and it was totally delicious, but to be taken in small doses, I suspect. They would make a great dessert for clients who needed gluten-free or not.
Today is the first day of spring in the Southern Hemisphere and we had a beautiful clear sky but a certain chill remains in the air.  Even though we have had a very mild winter I am looking forward to the warmth of summer so that I can shed a few layers of clothing. It's so much easier to throw on a dress and shoes and walk out the door than all the layers we are wearing at the moment. Wouldn't it be great if summer lasted forever? But then perhaps we wouldn't appreciate it so much.
Chocolate Mousse Meringue Desserts
Ingredients
For the mousse
2/3 cup cocoa BUY HERE
4 tbsp cane sugar BUY HERE
1.5 cups coconut milk BUY HERE
4 tbsp chia seeds BUY HERE
Method
1. Place everything in a food processor and process until smooth.
To assemble the cake
1. Cut rounds out of the brownie base with your moulds – BUY HERE.
2. Place the moulds with the base inside in a lined baking dish with plenty of space.
3. Fill to the top with the mousse and place in the fridge to set well.
4. Once the mousse is set, run a warm knife around the inside of the mould and slide the mould off leaving the cakes in the baking dish.
5. Make the meringue and pipe on top of the cakes.
6. Place under a warm grill for a short time until toasted. Don't take your eyes off them or they will burn.
7. Place in the fridge immediately to firm up again.
[/print_this]