Each weekend I intend to bake something healthy for my morning teas at work and also for my son and husband so they don't eat the over-processed muesli bars from the supermarket. The last granola bars were excellent but I love trying new recipes and this is one I found on the internet but unfortunately when I printed off the recipe I didn't realise until later that the blog name wasn't on it and now I'm not sure where I found it. However, I do know they adapted it from somewhere else. I haven't tried one yet but it has had the thumbs up from my son so that's good enough for me.
UPDATE: Aruna has kindly pointed me to the blog which had the recipe. It is cravingchronicles.com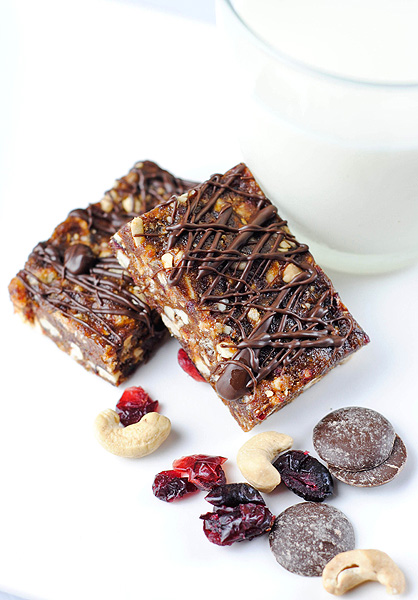 This is NOT a low Fodmap recipe.
Dark Chocolate Cherry Cashew Bars
Ingredients:
Vegetable or olive oil spray
1/2 cup lightly salted cashews BUY HERE
1 1/4 cups dates, pitted BUY HERE
1/2 cup dried cherries BUY HERE
1/2 raisins BUY HERE
1/4 cup dried cranberries BUY HERE
1/2 cup walnuts, roasted BUY HERE
1/2 cup sunflower seeds BUY HERE
1/2 cup rice bubbles BUY HERE
1/2 cup bittersweet chocolate chips (optional) BUY HERE
Method:
Line a baking pan with foil, leaving some overhang, and spray with oil. Coat the inside of a large mixing bowl with oil spray. Set aside.
In a food processor, pulse cashews until roughly chopped (no smaller than pea-sized pieces). Add to prepared mixing bowl. Spray food processor blade generously with oil. Add all fruits to food processor and pulse until a sticky paste forms, scraping down sides as needed.
Add fruit paste to cashew pieces in mixing bowl. Add 1/2 cup sunflower seeds and rice bubbles. Mix by hand until thoroughly combined. Press mixture firmly into prepared pan. Chill in freezer for about 30 minutes.
Spray a sharp knife with oil. Remove bars by foil overhang, place on cutting board and cut into 14 bars.
Place chocolate chips in a small, microwave-safe bowl and heat in 30 second intervals until chips start to melt. Continue heating in 15 second intervals, stirring well between each, until melted and smooth. Drizzle over cut bars. Set at room temperature until chocolate is firm, 15-30 minutes.