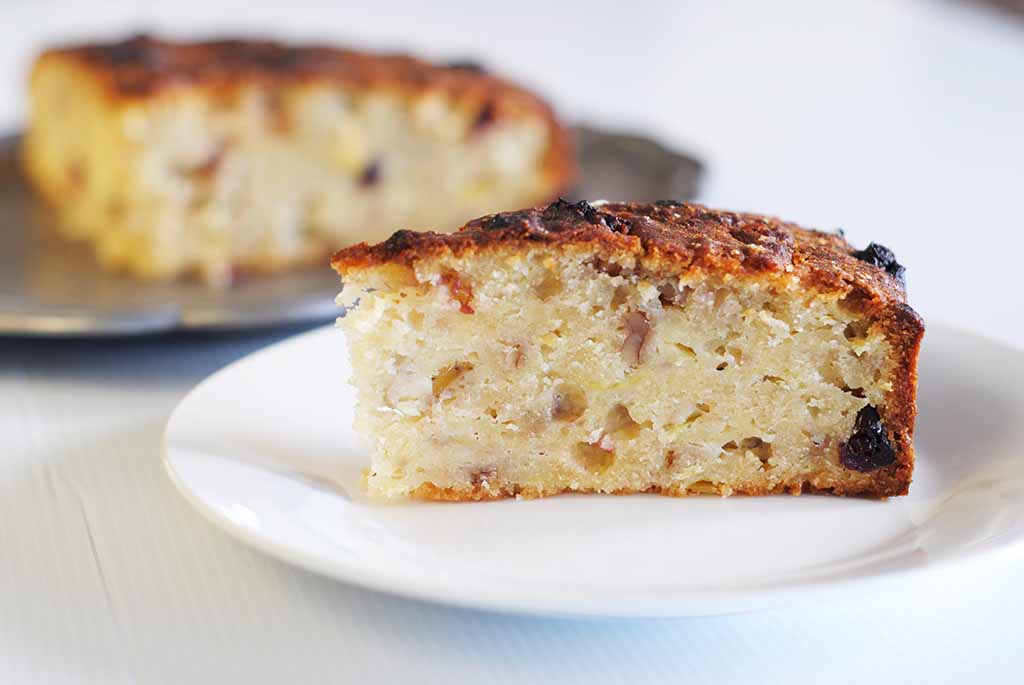 Extra-moist and studded with nuts and dried cranberries, this low Fodmap pineapple cake is delicious. Be careful not have more than a small slice at a time. If you're making it for a special occasion, you could cover it with a frosting made from powdered sugar, butter, and water. If fructose is a trigger for you, you'll have to reduce the size of your slice.

PINEAPPLE AND PECAN CAKE
Author:
Suzanne Perazzini
Ingredients
2 cups (316 g) white rice flour
½ cup (64 g) tapioca flour
½ cup (96 g) potato starch
1 teaspoon baking powder
1 teaspoon ground gingerroot
Pinch of salt
1 cup (200 g) white sugar
½ cup (55 g) chopped pecans
½ cup (60 g) dried cranberries
3 eggs
1 teaspoon vanilla extract
1½ cups (354 ml) light olive oil
1 can (8 ounces, or 225 g) of crushed
pineapple
3 just ripe bananas, mashed
Method
Preheat the oven to 350°F (180°C, or gas mark 4).
Sift together all the dry ingredients except the sugar. Add the sugar and combine. Then add the pecans and dried cranberries.
Lightly beat the eggs with the vanilla.
Add the eggs to the dry mixture, along with the rest of the ingredients. Mix until just combined.
Pour the batter into a buttered, floured 9-inch (23 cm) cake pan.
Bake for 1 hour. You may need to cover with aluminium foil partway through baking to prevent the top from burning.
Remove from the oven and let cool in the pan for 10 minutes.
Turn out the cake onto a cooling rack and let cool completely before serving.
Store in an airtight container in the fridge for 2 to 3 days or freeze for 2 to 3 months.