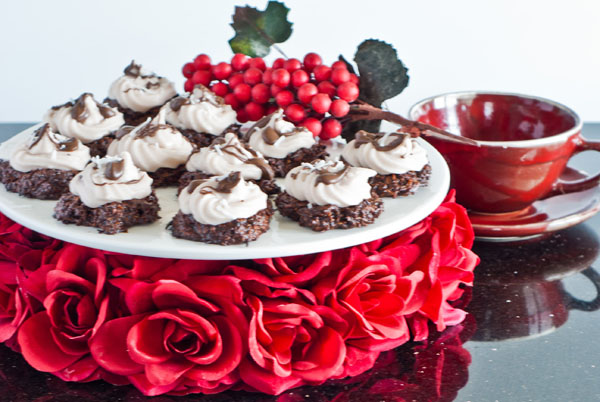 I found this recipe at one of the blogs I visit regularly, Anja's Food 4 Thought. I made a few minor changes and increased the quantities since we needed enough to last a week. When the cookies came out of the oven (see below) they were super ugly and I had to think long and hard about how to make them photogenic. I had all that berry cream cheese frosting left over from the beetroot cake I made so I stiffened it up with more icing sugar and piped it on top. With this intervention they were starting to look prettier. I then melted a little dark chocolate and drizzled a little over each one. Now we had something worth photographing. I pulled out over-the-top props like the wreath of red roses and the bunch of berries I bought in Italy for a euro and photographed the result.
By the way, the cookies taste great and Anja's cookies looked a whole lot better than mine in the raw state.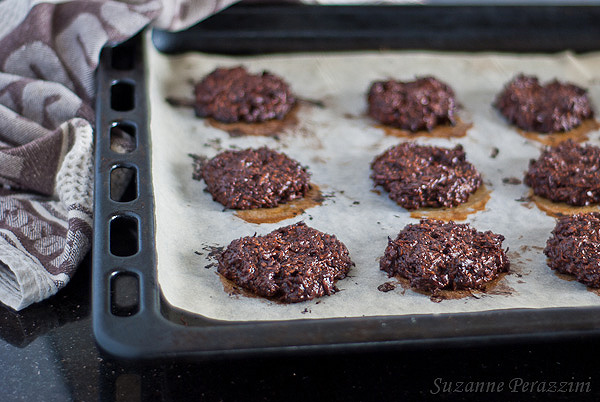 This is not a low Fodmap recipe.
Orange, Chocolate & Coconut Cookies
Author:
Suzanne Perazzini
Ingredients
3 cups dried coconut flakes
¾ cup cocoa powder
3 eggs
¼ cup golden syrup/maple syrup or extra honey
½ cup honey
1 orange, zest of
Method
Preheat oven to 180°C/350°F.
Line a baking tray with baking paper.
In a bowl, combine coconut flakes and cocoa powder. Mix well.
In another bowl, lightly beat the eggs. Stir in golden syrup, honey and orange zest.
Combine wet and dry ingredients.
Place a lump of the mixture on the baking paper and spread it out to the size of cookie you want. They don't spread out much further.
Bake for 18-20 minutes.