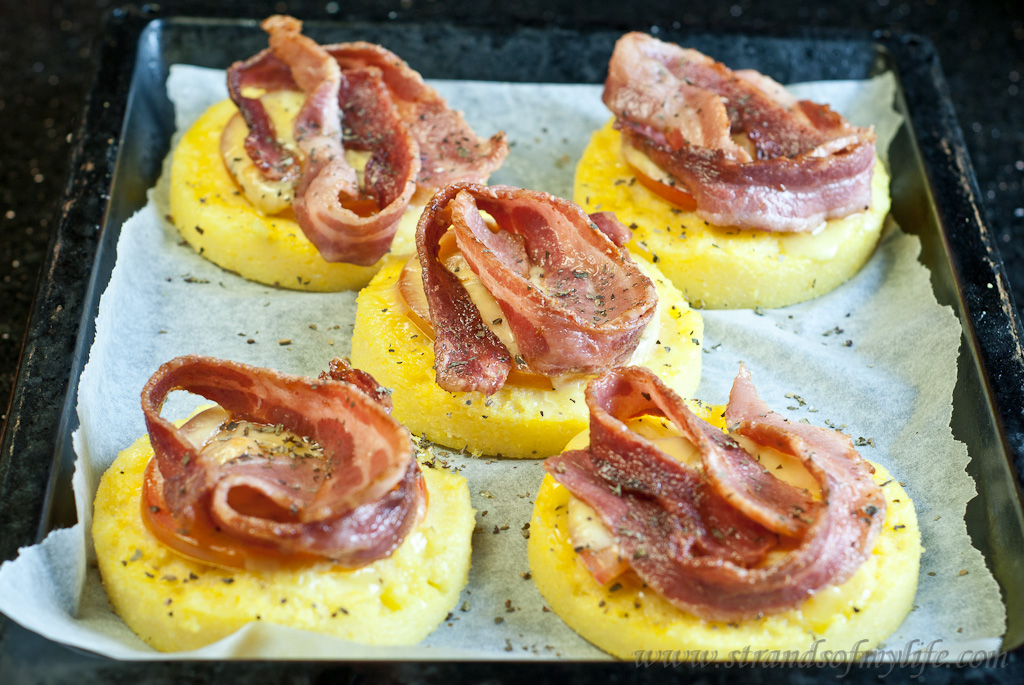 Tomorrow is D-day. The day of my first ever webinar. This has been a steep learning curve and I just hope I don't mess up with the technology and no one hears anything. I am not worried about the webinar itself because I am passionate about my subject and really want people to learn about this eating regime which can take away so much misery. I have a Q&A afterwards and I hope people ask great questions. I get daily emails with questions and I do answer them all but this is a great chance for people to ask me everything all at once.
If you would like to register, there's still time because the webinar is on Thursday 19th June at 8pm EST/7pm CST/5pm PST/Friday 12pm NZ. You can register HERE.
The Recipe
I needed to cook a quick and tasty meal so I could focus on the webinar and I came up with these polenta pizzas. Making the polenta literally takes a few minutes. You pop some tomato slices and cheese on top and stick them in the oven. Meanwhile you cook the bacon and it's all done bar the eating. The possibilities of what you could put on top are endless. We ate them with a green salad and that made up a well-rounded meal which satisfied us all.

Polenta Pizza - Low Fodmap & Gluten-Free
Author:
Suzanne Perazzini
Ingredients
250gms/8.8oz instant polenta
1 litre/33.8oz water
Hard cheese
Tomatoes
Bacon
Salt & Pepper
Oregano
Method
Heat oven to 180°C/350°F.
Boil the water and add 1 tsp of salt.
Add the polenta in a gradual stream, stirring briskly all the time.
When it has thickened, plop it out onto a big wooden board and spread it to a 1"/2.5cm thickness. Work quickly before it sets.
Cut the polenta into circles.
Place the tomatoes on top, season and sprinkle with dried oregano.
Put a slice of cheese on top of the tomato.
Place the pizzas in the oven until the cheese has melted.
Meanwhile fry or grill the bacon until lightly crisp.
Place the bacon on top of the pizzas and serve.