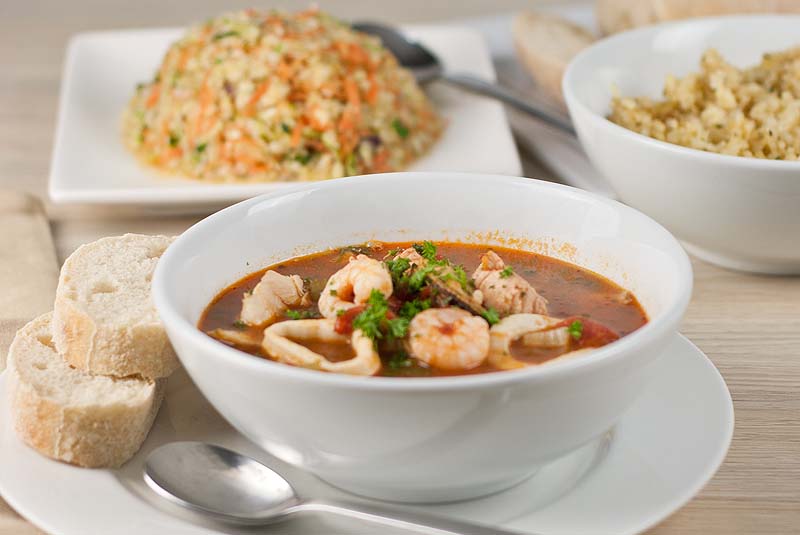 You've probably all heard of the classic French seafood bouillabaisse. Well I made one tonight but I can't vouch for its authenticity. Most home cooks spend their lives adapting recipes according to memory and what's in the pantry. I am no different. The recipe below is basic and simple but had the thumbs up from both Adriano and Dario. The preparation is very quick and then it cooks all by itself. Just perfect for getting my photographic equipment ready for a fast photo shoot before it all gets cold. At least my family has now learned not to nag about being hungry before I am finished or I bite their heads off. I did used to wonder how many times I had to snap at them before they learned, but learn they eventually did. I am also getting a little quicker as I get to know my camera better. Sometimes it feels like a wayward child which can't make up its mind what it wants but I show it who is the boss and eventually a decent photo arrives.
By the way, I served the bouillabaisse with leftover coleslaw from last night and risotto from the night before. I am always very pleased when I manage to wrestle some food away from Adriano to save for the next day. It saves my poor work worn hands.

Seafood Bouillabaisse - Low Fodmap
Author:
Suzanne Perazzini
Ingredients
2 tbsp olive oil
1 tsp garlic-infused oil
2 spring onion, diced (green part only)
1 celery stick, diced
½ tsp dried sweet basil
½ cup of wine
2 x 400g cans whole peeled tomatoes, chopped
375ml fish stock (onion and garlic-free)
Salt & pepper
2 cups of seafood marinara mix
Handful of parsley, chopped
Method
Heat the oils in a large saucepan and saute the spring onion, celery and basil until soft.
Add the wine and simmer until it reduces to half.
Add the tomatoes and stock and simmer 20 minutes.
Check the seasonings and adjust if necessary.
Add the seafood mix and gently simmer for 3-5 minutes.
Serve and garnish with the chopped parsley.