I had the most wonderful gift yesterday. My boss gave me the day off work. I couldn't think of a better gift than the gift of time. My weekends seem to be brim full of all the things I can't do during my working week and the extra day was bliss. I did nothing much that was on my permanent to-do list. Instead I went to the movies – Woody Allen's Blue Jasmine, which was amazing and had an ice-cream, a rare occurrence. I then walked to the beach, did a big circuit past the shops and on to the supermarket to buy a few ingredients to make this delicious tart. Once home, I baked it in a leisurely manner, unlike the rush that often happens on Saturday, and thoroughly enjoyed the experience. And I can tell you something – it tasted wonderful for it. I must have baked my peaceful state right into it. It's now Saturday and all I had left to do was photograph it and eat it. I ate too much because it was so good and now have a belly ache. That's what happens when you are fructose intolerant and eat too much sugar. A little is fine but too much can be disastrous. I know this but sometimes that tiny devil that sits permanently on all our shoulders gets the better of me and I self-destruct. Whether it's worth it or not is debatable. But at least now I make the conscious choice to suffer whereas, in the past, I suffered no matter what I ate or eliminated and didn't know why. A more complex food intolerance I couldn't have chosen than to be intolerant to the sugar component in foods. But my life today is day and night to what it used to be and well worth the effort that goes into keeping the balance right on a daily basis.
The idea for this tart came from this recipe here but I had to make it gluten-free and low FODMAP so a few changes had to happen to the ingredients. Also, the original recipe said to bake the filling for 30 minutes. But I had to bake it for 1 hour before the filling was set but my oven is wonky so 45 minutes for the gluten-free version might be fine for you but do check that it is set. If the crust starts to get too brown, cover the tart with a sheet of tin foil.

Blueberry Sour Cream Tart
Author:
Suzanne Perazzini
Ingredients
For the pastry
133gms/4.7oz white rice flour
22gms/0.8oz tapioca flour
45gms/1.6oz potato starch
pinch of salt
1 heaped tbsp sugar
100gms/3.5oz butter
1 medium egg
For the filling
200gms/7oz frozen blueberries
2 tsp tapioca flour
300gms/10.5 oz sour cream (if you are lactose intolerant you could use lactose-free sour cream or yoghurt)
½ cup icing sugar
3 egg yolks
2 tbsp white rice flour
Method
For the pastry
Blend all the dry ingredients in a food processor.
Add the butter cut into small pieces to the food processor and process until fine crumbs form.
Add the egg and process until it forms a dough.
Remove from the processor and add a little more rice flour if it is too wet - this depends on the size of your egg.
Press into a greased tart dish and place in the fridge for 30 minutes.
Preheat the oven to 180°C/360°F.
Place baking paper in the base of the tart and fill with rice or dried beans and blind bake for 15 minutes.
Remove the paper and beans/rice and cook for another 10 minutes.
For the filling
Mix the blueberries in the tapioca flour and place in the pastry case.
Combine remaining ingredients together and whisk until smooth.
Pour over the blueberries.
Bake at 160°C/320°F for 45 mins or until set.
Allow to cool for 10 mins before removing from the tin.
Dust with icing sugar and serve.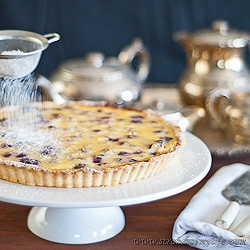 In New Zealand, spring has certainly arrived with milder temperatures and the rain, which is part and parcel of this season. I took a couple of quick shots out in our garden for you to show the crossover of the seasons from winter – the pink camellias – to spring – the yellow Kowhai, a tree which is native to New Zealand.