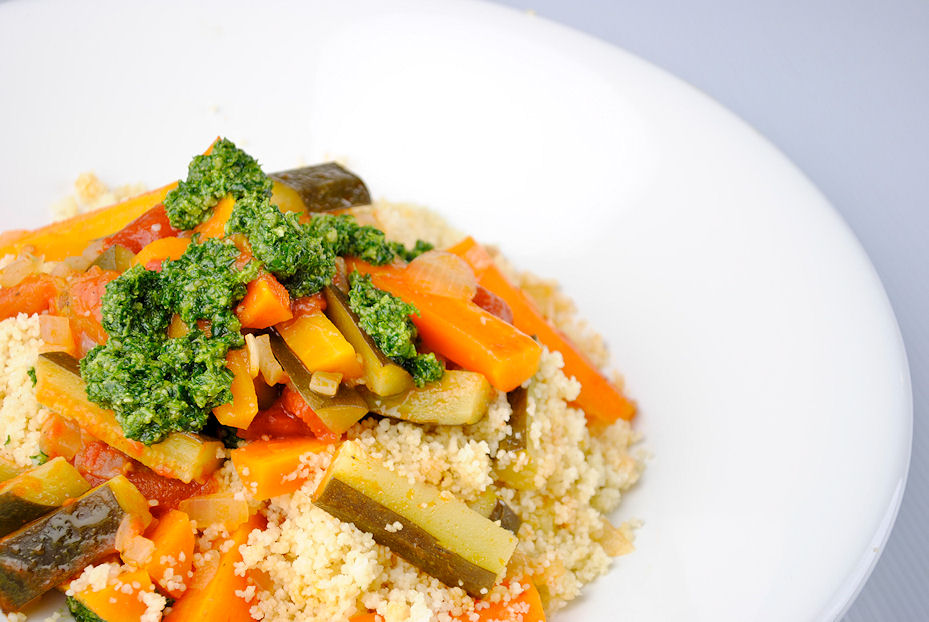 As I have probably said before, couscous is Adriano's favourite grain and I make several different recipes with it. This one came from Lebanese Recipes Kitchen and it proved to be the best yet. I would never have thought of putting pesto with a Lebanese-style couscous but it worked well.
This is not a low Fodmap recipe.

Vegetable Couscous with Pesto
Author:
Suzanne Perazzini
Ingredients
For the Pesto:
1 cup fresh coriander (leaves and some stems)
½ cup fresh parsley (stems reserved for couscous)
2 tablespoons of pine nuts
½ clove garlic
¼ cup extra-virgin olive oil
Salt
For the Couscous:
4 tablespoons unsalted butter
Salt
1 onion, cut into 8 wedges
1 cinnamon stick
1 can peeled tomatoes, halved
2 small carrots, cut into chunks
1 zucchini, chopped
Freshly ground pepper
1½ cups couscous
Method
Make the pesto
Combine the coriander, parsley leaves, pine nuts and garlic in a food processor; pulse until coarsely chopped.
Add the olive oil and ½ teaspoon salt; process until smooth.
Prepare the vegetables for the couscous
Heat a wide heavy-bottomed pot over medium heat.
Add 3 tablespoons butter and 1 teaspoon salt; cook until the butter begins to brown.
Add the onion.
Tie the reserved parsley stems and cinnamon stick together with twine; add to the pot.
Cook, stirring occasionally, until the onion is lightly browned, about 5 minutes.
Add the tomatoes, 1 cup water, carrots, zucchini, 1½ teaspoons salt, and pepper to taste. Cook, stirring occasionally, until the vegetables are crisp-tender, about 15 minutes.
Remove the parsley and cinnamon.
Meanwhile, cook the couscous as the label directs.
Add the remaining 1 tablespoon butter, season with salt and pepper and fluff with a fork.
Top the couscous with the vegetables and pesto.