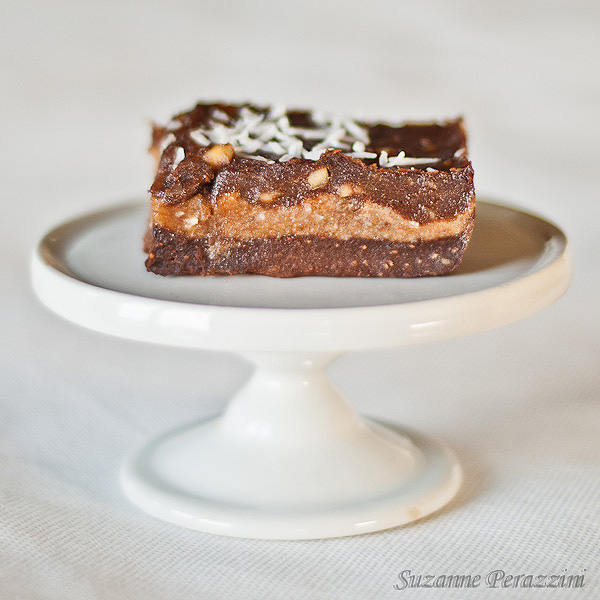 I have cracked the gluten-free, dairy-free and sugar-free muffin and this weekend I attempted a slice that said decadent yet had no gluten, dairy or sugar. It was quite a mission and I had to gather together a few different ideas from recipes I had seen around the food blog world but none eliminated all three elements so I had to experiment and I have succeeded in making something rather wonderful. You do have to like banana, coconut and chocolate but if you do, this is your new best friend. I got the idea for the middle layer from The Life of Clare.
Chocolate, Banana, Coconut Slice
Ingredients
For the bottom layer:

4 tbsp unsalted peanut butter (with no added sugar)
4 tbsp coconut butter
3 tbsp cocoa powder
2 ripe bananas

For the middle layer:

1 cup walnuts
1/4 cup dried coconut
2 tbsp coconut oil
9 soft dates
1/2 tsp teaspoon vanilla extract
1/4 cup cacao nibs
1 soft banana

For the top layer

1 banana
100mls coconut cream
¾ cup peanut butter
2 tbsp date puree
2 tbsp cocoa powder
A few grains salt
Instructions
For the bottom layer:

Place everything in a food processor and blend well.
Spread over the base of a lightly oiled baking dish. (I lined it with parchment paper but it wasn't necessary.)
Place in the freezer for 15 minutes.

For the middle layer:

Place everything except the cacao nibs in the food processor and blend very well.
Add the cacao nibs and mix.
Spread over the bottom layer and place in the freezer for another 15 minutes.

For the top layer:

Mash the banana in a bowl and add all the other ingredients except the peanut butter. Whip with egg beaters until the mixture thickens.
Add the peanut butter and beat until a thick fluffy mixture develops.
Spread over the other two layers and place in the fridge.
Once it is chilled, cut into slices and keep in the fridge.
http://www.strandsofmylife.com/chocolate-banana-coconut-slice-sugar-gluten-dairy-free/
Note 1: You can make your own coconut butter by placing a packet of shredded coconut in a food processor and processing for about 10 minutes.
Note 2: The base is quite soft but holds together. It could be a bit messy if left out of the fridge too long before eating it but it won't fall apart. I will work on this element in the weeks to come so it is less like a dessert and more like a very firm slice. But the delicious factor outweighs any messiness – perhaps use a spoon.
##LAVEEM_LABEL-ID:18c2e8d7##
Related posts: