When you are on a low Fodmap diet to eliminate your irritable bowel symptoms, you might feel hungry because you are not implementing the diet in the right way and have cut down your foods to just a few that you know you can tolerate well. Watch my video to find out how to never go hungry on the diet again.
Video
Transcript
Won't I get hungry on the low Fodmap diet?
Welcome to this video. Today, I am going to talk about how you can eliminate your IBS symptoms and not feel hungry.
Of course you will be on the low FODMAP diet which is the only way to eliminate your symptoms. But while you are on this diet a lot of people eliminate too many foods. The list of foods that we can eat on the low FODMAP diet is quite high and as long as you are eating all of them, you are going to be getting the nutrients that your body needs but so many people reduce them down and down and down till they're eating the same meals every day with a very restricted diet which is going to cause other health problems along the way. So eat as widely as possibly.
The Timing of Meals
And also, when you've got irritable bowel syndrome, it's best not to eat big meals. And also, your gut doesn't like you to eat lots of small meals during the day which is what a lot of people do, but also your gut doesn't like you to leave too long between meals because then it goes into starvation mode. And because we have the brain to gut problem where the signals are not very clear and get very messed up, our gut interprets no food arriving as hunger and that causes pain. The happy medium between these two is five meals a day, three to four hours apart. You have to work that out yourself depending on your schedule and when you get up in the morning and when you go to bed. You don't want to be eating too close to going to bed. Leave about three hours, in fact, before you got to bed so that most of your digestion has finished before you lie down. Five small meals a day. Breakfast, lunch and dinner with a morning snack and an afternoon snack in between and keep all your meals small.
If You are Hungry…
If you feel that you're still hungry, that means that you're not balancing your meals very well. The foods that keep you from feeling hungry are proteins and fats. As I've already mentioned in some other videos, you do have to be careful about fats because fat is a gut irritant but we certainly need a certain amount. Proteins have little to no FODMAPs and so, you can increase the level of your proteins if you are feeling hungry. And, that will increase the volume of food you're eating but also the proteins keep away hunger for longer. Whereas the carbohydrates give you a boost of energy and then drop you down lower than before. So, If you are hungry and not able to eat for a little while, it's best to have some protein and a slice of gluten free bread. You have to regulate how much you need to eat, according to the scales. If you weigh yourself each day or once a week, you can see what's happening and you can increase or decrease the amount you eat. But certainly as far as hunger is concerned, protein and fats will keep away your hunger for longer while the fruits and the carbohydrates and the vegetables will give you a quick boost but then it disappears.
So, it's up to you, how you adjust that to get it right for your weight. And the amount of exercise and your own metabolism. But there is no need at all to go hungry on the low FODMAP diet as long as you eat as widely as possible and balance meals with every meal having protein in it.
Thank you very much for listening and goodbye.

---
Tuna Mousse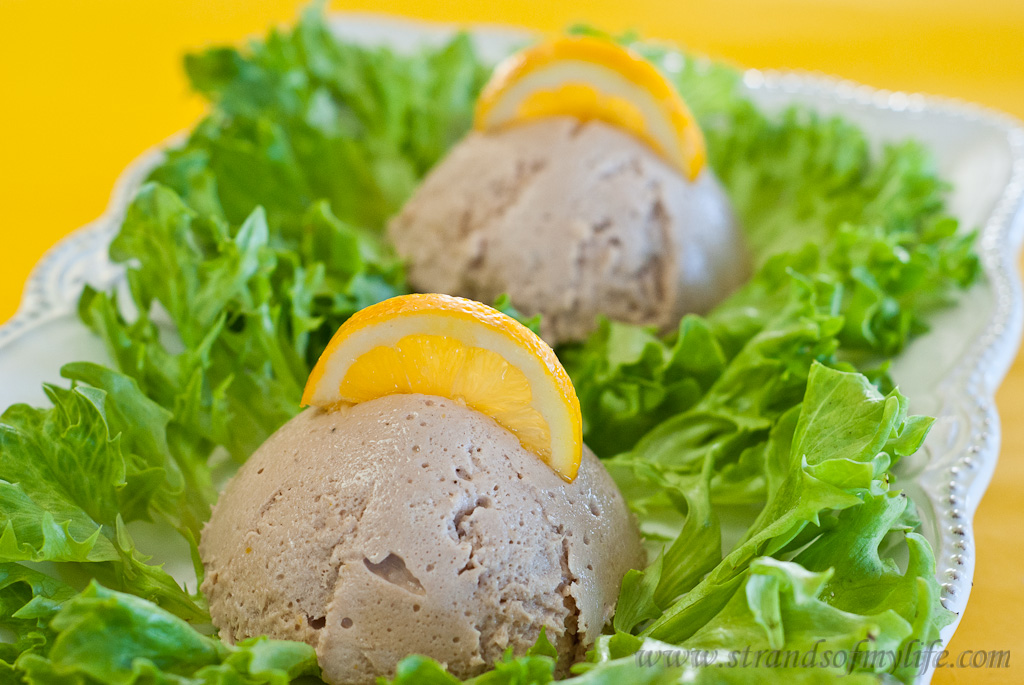 This is an oldie but a goodie from my little green book. A few decades ago, tuna mousse was so fashionable and graced the table of many a dinner party. We even used molds in the shape of fish. I haven't really seen it come back into favour and it still feels old-fashioned but it is a great meal to go with salad and homemade bread rolls. Maybe I can help it take off again! It is simple to make, can be made in advance and tastes great. What more would you want from a recipe? Oh, and it is low Fodmap.

Tuna mousse - low Fodmap & gluten-free
Author:
Suzanne Perazzini
Ingredients
200gms/7oz canned tuna (in water)
4 tbsp mayonnaise
4 drops Tabasco
14gms/0.5oz gelatine
2 egg whites
½ tsp salt
Ground pepper
½ lemon
3 tbsp water
Method
Drain the tuna and place in a food processor with the mayonnaise, salt, pepper and tabasco.
Grate ½ the lemon and squeeze the juice. Add to the mixture.
Dissolve the gelatine in the water over a gentle heat.
Add to the processor and process well.
Whip the egg whites until they are stiff.
Fold into the tuna mixture.
Lightly oil 3-4 molds (depends on the size).
Spoon the mixture in and place in the fridge to set.