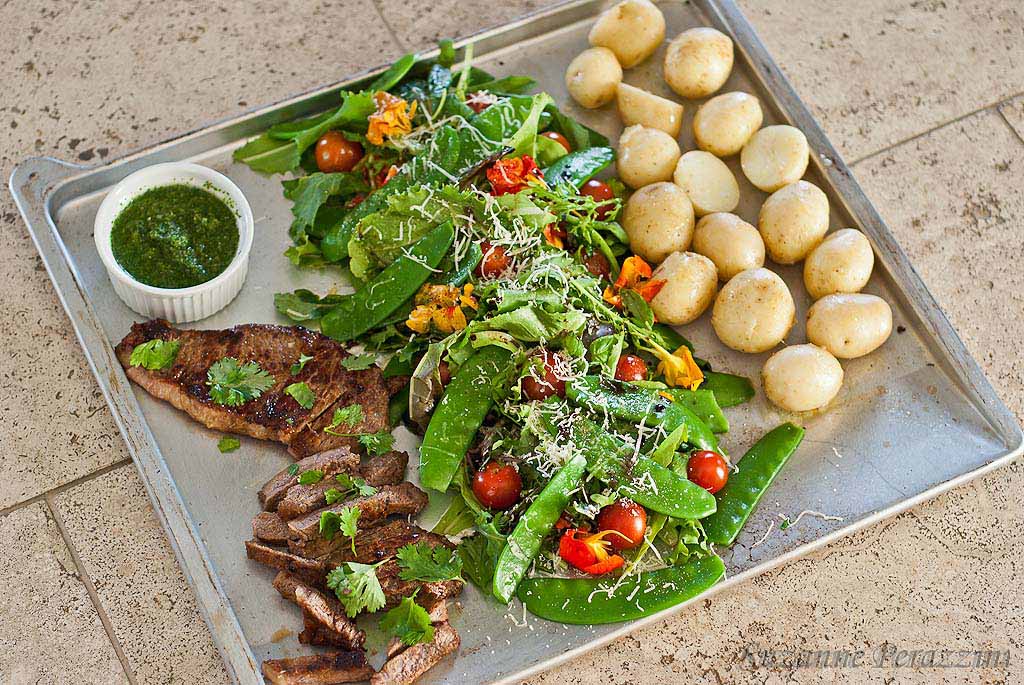 I had to do it – I went out and bought Jamie's 15-Minute Meals
. I made one of his meals last night and it took me 40 minutes and one part didn't work out too well so I didn't photograph it. Tonight I tried again with a different recipe and this was a stunning success. Okay, it took 30 minutes instead of 15 but that's not really too long to have all that food on the table. He says to put it all on a tray and the only thing big enough was an oven tray but it worked. Less dishes to wash too. And my Cuisinart DLC-2ABC Mini-Prep Plus Food Processor, Brushed Chrome
,
as always with his meals, was essential. I just checked on Amazon and these processors are heavily discounted at the moment so, if you need one, this is your chnace to get one cheaply.
Some of you may have already realised that the way I am eating now aligns with the Paleo regime. This is more of a coincidence than any premeditated plan I may have conjured up. I decided to eat grain and refined sugar-free and then found out I had not invented the wheel. There is a massive movement out there of people who have decided to take inspiration for their diet from the way our ancestors ate. They were hunter gatherers who ate meat whenever they managed to catch it and feasted on plants when they could not. The current Paleo way of eating has taken inspiration from the simplicity of that diet. No preservatives or additives of any kind, no pesticides, only honey for sweetener, no beans or lentils and more importantly no grain. Man as we know him, has been around for 250,000 years but the earliest evidence we have of grain being used was in 8,000 BC – a mere drop in the ocean. In another post I will tell you more about grain and what it does to our bodies – not pretty. And in time, I will address other foods that are not a part of Paleo.
But for today, I want to talk about the potatoes in Jamie's meal. The Paleo community is a little divided on the consumption of the common old spud. They allow sweet potatoes and other root vegetables but the potato is controversial.
Mark Sisson at Mark's Daily Apple (one of the top Paleo blogs) says, "They represent a bolus of dietary starch, which can wreak havoc on the insulin resistant, but they are undeniably whole, real foods that don't require much processing beyond simple heating." Whether you decide to eat them or not depends on the state of your metabolic function. See more about the subject here.
For now I am still eating them but might have to come to the conclusion that they have to be put to bed for a while if my issues don't clear up. I will be sad no doubt but my health is more important than a few tears.
What foods do you eat despite knowing they could be hurting you?
This is NOT a low Fodmap recipe.
Beef Chimichurri, New Potatoes & Crunch Salad
Ingredients
For the potatoes:
800g new potatoes
1 lemon
1 tsp dried dill
For the sauce:
4 cloves of garlic
6 spring onions
2 heaped tsp dried oregano
½ a fresh red chilli
1 fresh bay leaf
1 bunch coriander
2-3 tbsp red wine vinegar
For the beef:
2 x 250g sirloin steaks
Olive oil
For the salad:
2 little gem lettuces (I used a bag of mixed salad leaves)
1 handful of cherry tomatoes
½ bunch fresh mint
150g fresh raw peas ( I used snow peas)
Olive oil
1 tbsp balsamic vinegar
Parmesan cheese to serve
Method
For the potatoes:
Put the potatoes and whole lemon into a saucepan and cover with boiling water and cook until tender.
When cooked, drain the potatoes, tip into a bowl and squeeze the lemon over it (use tongs).
Toss with 1 tbsp olive oil, salt, pepper and the dill.
Transfer to a big platter or tray.
For the beef:
Rub the steaks with salt and pepper, then put into a hot frying pan with 1 tbsp olive oil, turning every minute until cooked.
Slice up and add to the platter.
For the sauce:
Add all ingredients to a food processor and add a little boiling water and whiz until smooth.
Season to taste and pour into a bowl.
For the Salad:
Roughly chop the lettuces, tomatoes, mint and place on the platter.
Place on top the blanched snow peas.
Dress with 1 tbsp olive oil, salt, pepper and vinegar and toss.
Grate some Parmesan cheese on top.