The Video
The low Fodmap diet for irritable bowel syndrome is a complicated diet which is not just a list of good and bad foods but is also about amounts, combinations and accumulation of Fodmaps during the day. This is a question that I get asked often and finally I have answered it for you. There is no clear cut answer but watch my video to get some idea of how this works.
By the way, it was so hot in my study that I am wearing a black tank top in the video. That doesn't happen very often. I had a red jacket to put on and look professional but I couldn't bear the thought of it. The water at the beach is as warm as bathwater right now and still it doesn't rain. This is an amazing summer!

The Transcript
Welcome to this video. Today I'm going to talk to you about combinations, amounts, and accumulation of Fodmaps.
My name is Suzanne Perazzini, and I'm the author of two Low Fodmap cookbooks and the creator of two Low Fodmap Coaching Programs. I get this question a lot about combinations and amounts and the accumulation of Fodmaps, because this diet is not, as I've said many times, a simple one at all. It's not just a list of good foods and bad foods. It's also about the amounts, the combinations, and the accumulation during the day. I like to think of it as Fodmaps accumulating during the day until you go to the toilet where you zero them out. It's like a glass. Once it's full, it starts to spill out over the top. And all that spills out over the top are the Fodmaps that go on from the small intestine down to the large intestine and get fermented there. Up until it spills over, those Fodmaps are getting absorbed in the small intestine, which is where it should happen. Any excess, and off they go down into the large bowel, and that's the problem. So, we have to monitor very carefully throughout the day what we eat, and also not to eat too many at once.
For example, if you've got a salad, and you've got carrots, peppers, tomatoes in it. We know that the average person with IBS can have one carrot. You can have a half a cup of red peppers, and you can have a small tomato. But if you put those all together, that's going to be one plus one plus one equals three, and that's going to overflow the cup. So you take each of those down to a third of the amount – a third of the carrot, a third of the half a cup, and a third of the tomato – and mix those together. As long as you make sure that you've got some protein in there and some carbs, maybe some gluten-free bread, or some rice, or whatever it is it that you want as your carb, then you're going to get a good rounded meal with your vegetables and meat. But if you put those vegetables at the average amount, and put them all together, that's going to be an overload. It's that simple.
So then, it actually gets digested through, and the next meal, you can do the same thing. What you don't want to be doing though is accumulating too many during the day. So, I wouldn't be having a plate of vegetables at each of the five small meals that you should be eating because that then is going to really tire the body down. It's a little bit like with sugar – it's 50% fructose and 50% glucose. In small quantities, the glucose, cell for cell, will pull the fructose through the lining of the small intestine, and so you won't have any problems. But after a while, if there's too much sugar, the glucose gets tired and stops doing its job. So, it's something similar about the accumulation during the day. You don't want to, at each meal, be taking it right to the max of the Fodmaps that you can eat for that meal. Just leave a little bit of leeway. And we're all completely different, and this will be an individual thing for you, and you have to work it out yourself, but be aware of that equation. One plus one plus one equals three, and we want to keep it at one.
Well, I hope that helped you with trying to sort it out. I'm not saying it is simple, but it is individual.
---
The Recipe
I got all creative tonight and this was the result. It looks kind of messy but, I assure you, it tasted delightful with all the strong Thai flavours.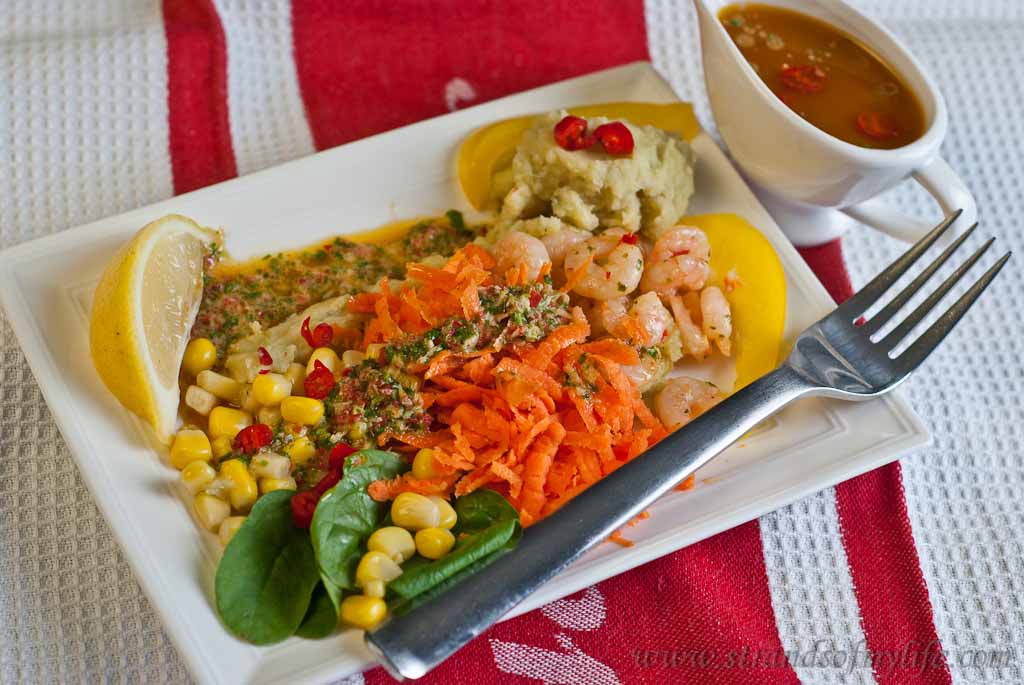 Thai Shrimp Salad - Low Fodmap & Gluten-free
Author:
Suzanne Perazzini
Ingredients
For the kumara/sweet potatoes
2 kumara (sweet potatoes)
1 tbsp butter
1-2 tbsp coconut milk
2 tsp of the dressing
Salt and pepper
For the salad
2 carrots
1 cup of corn
2 cups of shrimps
1 yellow bell pepper
4 cups of baby spinach
For the dressing
1 red chilli, deseeded
1 cup of fresh coriander
1 tsp garlic-infused oil
1 tbsp coconut milk
1 knob of ginger, peeled
½ - 1 tbsp lemon juice
2 tbsp olive oil
Salt & pepper
Method
For the kumara
Peel and boil the kumara.
Mash with the rest of the ingredients.
For the shrimps
Fry lightly in butter,
Drain off most of the liquid that forms and reserve.
Add 2 tsp of the dressing to the shrimps and cook for 1 minute.
For the dressing
Add the chilli, coriander and ginger to a small food processor and chop up.
Add all the other ingredients plus 1 tbsp of the liquid reserved from the shrimps.
For the salad
Grate the carrot.
Slice up the bell pepper.
Mix all the vegetables together including the mashed kumara.
Add the shrimps.
Add the dressing and mix well.
Adjust the seasoning.