As I have said before in a different video, there is a connection between reflux and irritable bowel syndrome, and so it can be necessary to integrate a reflux diet with the low Fodmap diet. Watch my video to see how to do this.
Transcript of the Video – Combine the Reflux and the Low Fodmap Diets
How do you combine a reflux diet with the low Fodmap diet?
Welcome to this video. Today I'm going to talk to you about reflux.
Someone watched one of my recent videos about the connection between IBS and reflux, and they asked me about the fact that I said I had been helping clients of mine who had IBS and reflux and how to integrate that fact into the low Fodmap diet, and she wanted to know how to do that.
What is Reflux?
Let's start at the beginning. First of all, I'm not an expert on reflux – my area is IBS and the low Fodmap diet – but I have helped clients with this who have also got IBS, and I'll let you know what I know. Reflux is also called gastroesophageal reflux disease or GERD's – that might be how you know it.
The Symptoms of Reflux
Let's just talk first of all about some of the symptoms of reflux so that you can recognise whether maybe you have it or not. The main one is heartburn, even though this has got nothing to do with your heart. It is a feeling of burning or discomfort that starts in your stomach and moves up into your chest up through your throat.
Also, you can have regurgitation of some of the stomach acids that will move up to your throat and even into your mouth, where you might have what feels like a wet burp as some of the acids end up there. But it could also just be in the form of a sour or a bitter taste at the back of your throat. This acid can interfere with your vocal cords and it can cause you to sound hoarse. So even though you don't have a cold, maybe you're sounding hoarse, and that could be what's happening – it could be the reflux there. This acid can also cause you to have a sore throat. You've got a sore throat mainly after eating but you don't have a cold, then that could be reflux. Also sometimes some of this acid that regurgitates, might end up going down into the lungs. That will cause you to have a chronic cough, as you're constantly trying to cough it up.
One of the lesser known symptoms of reflux can be nausea. Not a lot people get this, but if you have– nausea can have a lot of causes. That's the problem here. But if you get nausea after eating meals, and that's a fairly chronic thing for you, then maybe you should be looking at reflux.
How to prevent Reflux
Let's have a look at some of the best ways to help prevent reflux. There is a connection between being overweight and having reflux. So try and maintain a healthy body weight. Also, avoid heavy meals, which cause a lot of acid to be produced. In fact, on the low Fodmap diet, anyway, we have to eat five small meals a day, so that will be perfect for the reflux diet.
Also, don't go to bed within three hours of eating, otherwise you'll be lying down horizontal and gravity doesn't work in your favour that way. The acid will actually regurgitate back up through your throat – it has an easier passage, an easier way of doing that.
There are certain foods you have to limit. This is where the low Fodmap diet and the reflux diet can be integrated. You have to avoid fried foods, greasy foods. Also, spicy foods can cause reflux, and unfortunately chocolate and caffeine, obviously, in coffee and tea, and also in things like coca-cola. The other foods are more acidic foods like citrus fruits, which you'll find in the low Fodmap diet but not on a reflux diet, and also tomato. Avoid peppermint – which is fine on the low Fodmap diet – because it actually encourages the gastric juices to be produced, which is good for digestion but not good for reflux.
Also it's not a good idea to smoke, because smoking weakens the sphincter muscle at the bottom of the esophagus, which opens and closes. You don't want that to be moving in the wrong direction when you don't want it to, because that's what lets the acid flow backwards, upwards.
Also maintain a good posture, especially when you're eating, so that the food's got an easy passage to go down, but also you're not encouraging the acid to move up by slouching and pressing on the digestive system . Also by the same token, don't do any bending over after your meals. Maybe don't go to a gym and do a workout, because that again is going to be pressing on your digestive system.
Another thing that can cause reflux are some medications, even some over- the-counter ones like aspirin and ibuprofen, and some medications that are used for osteoporosis. Just have a chat with your doctor about those before you take them, and make sure that you don't have something that's going to cause or aggravate your reflux.
How to Treat a Reflux Attack
Once you have an attack, there are over-the-counter medications – antacids – like Gaviscon, Mylanta, Tums – which neutralise the acid which is causing the burning. The only thing is that you can't take these for too long, because they can have side effects, like diarrhea, which, if you're on the low Fodmap diet to eliminate your IBS symptoms, you're not wanting to get back again just after you've eliminated it. Also, it can stop the absorption of calcium which you need to prevent osteoporosis. Again, that's something that you've just got to look out for. I wouldn't stay on those things too long-term.
One thing I do know, my father had reflux all his life and he used to drink milk to help with the burning, because milk, even though it's slightly acidic, and you'd think, "Well, why would you add more acid?" it's got a fat content to it – not enough fat that it's going to cause reflux, but it lightly coats the esophagus with the fat, and that stops the burning or helps the burning sensation.
Well, I hope that's given you a few tips about reflux and how to integrate it into the low Fodmap diet. Thank you for watching and goodbye.
---
Coleslaw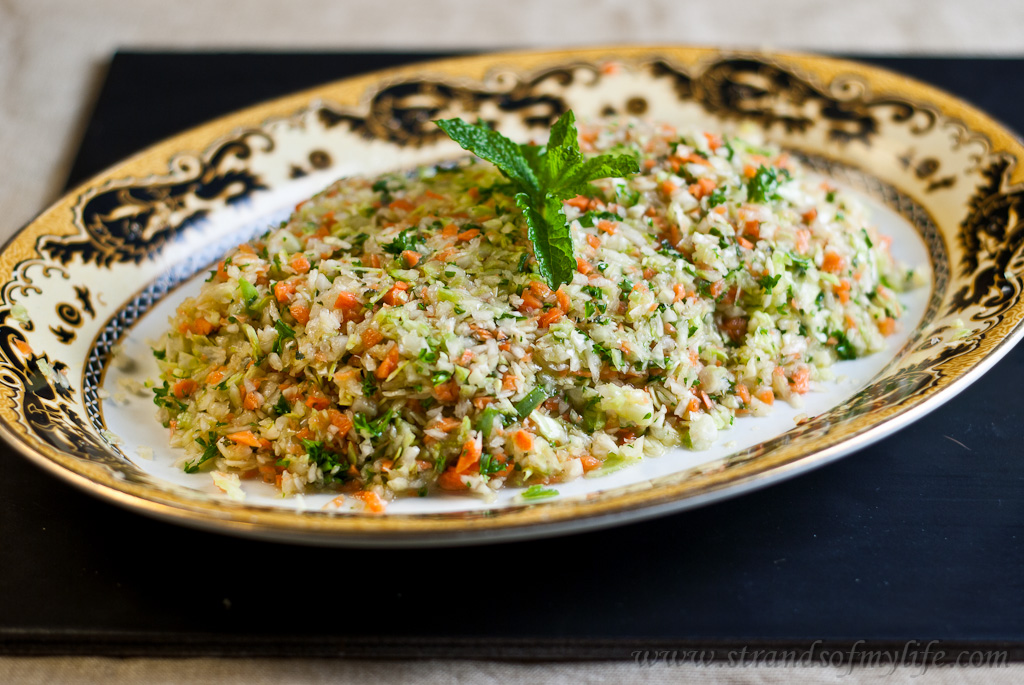 This is a very simple dish but makes a change from the usual salad of lettuce and tomatoes. It all gets thrown in the food processor and voilà, it's done. You could use a homemade mayonnaise dressing instead of the lemon and olive oil one if you prefer it. We can only have one cup of common cabbage so make sure you don't overindulge.

Low Fodmap Coleslaw
Author:
Suzanne Perazzini
Ingredients
¼ a cabbage
1 carrot
1 stalk of celery
2 spring onions, green part only
A small handful of fresh mint
Olive oil
Lemon juice
Salt & pepper
Method
Cut the cabbage into several smaller pieces.
Peel and top the carrot. Cut into smaller pieces.
Chop the celery into 8 pieces.
Chop up the green of the spring onions a little.
Place all the vegetables in a food processor and process into small pieces.
Tip them all out into a serving bowl.
Drizzle over olive oil and lemon juice.'Season to taste.
Mix well and serve.