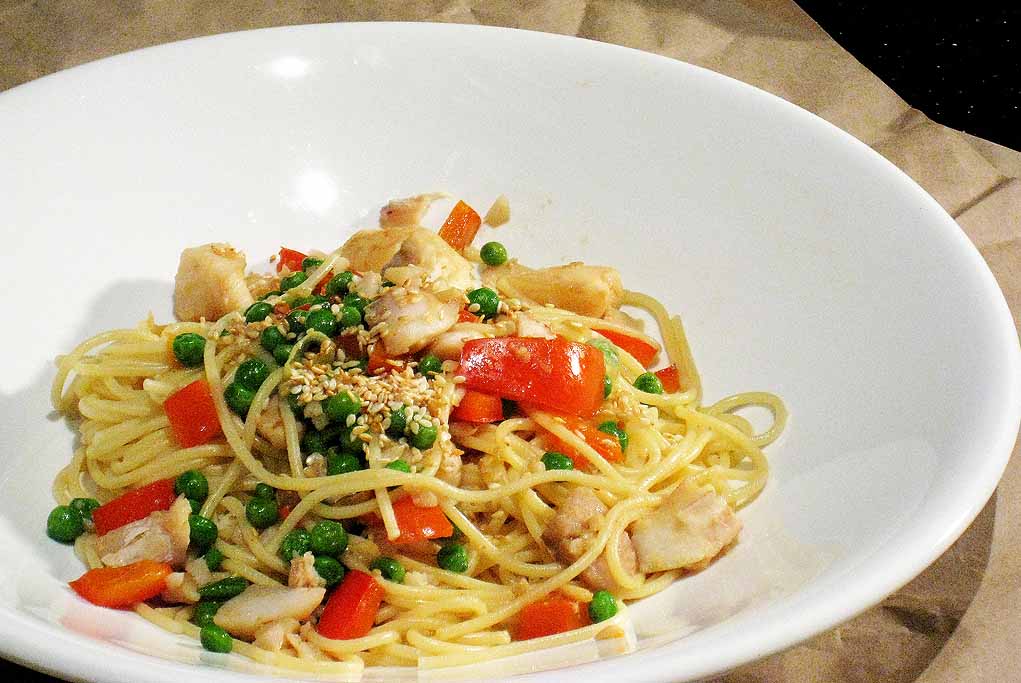 Adriano has the biggest race of the year this weekend – in terms of the distance anyway. He will be mountain biking for six hours straight. I know the routine by now – carbs before and protein afterwards so tonight it was pasta. I found this recipe in the Foodtown Magazine and it sure was tasty. Adriano said I had to cook it again but, for this blog, I need to cook something different every night. But he can cook it on his nights – the recipe has been passed over. No Dario tonight as he is at his girlfriend's but I am sure he would have approved as well.

Stir-fried Ginger Fish with Spaghetti - Low Fodmap
Author:
Suzanne Perazzini
Ingredients
500g gluten-free spaghetti
1 tsp garlic-infused oil
2 tbsp soya sauce
2 tsp sesame oil
1 tbsp wine
¼ tsp chilli flakes
500g firm fish like snapper or terakihi
1 tbsp finely sliced ginger
1 red bell pepper - sliced
50g frozen peas
4 spring onions sliced (green part only)
Toasted sesame seeds
Method
Mix garlic oil, soya sauce. sesame oil, chilli flakes and wine and add fish cut into 3cm pieces. Leave for 5 minutes to marinate.
Heat some oil, add ginger and fish (minus marinade). Stir for 1 minute.
Add capsicum and stir 1 minute.
Add peas, spring onion and the marinade. Simmer 2 minutes until fish is cooked.
Meanwhile cook spaghetti, drain and add to the fish mixture.
Garnish with sesame seeds.