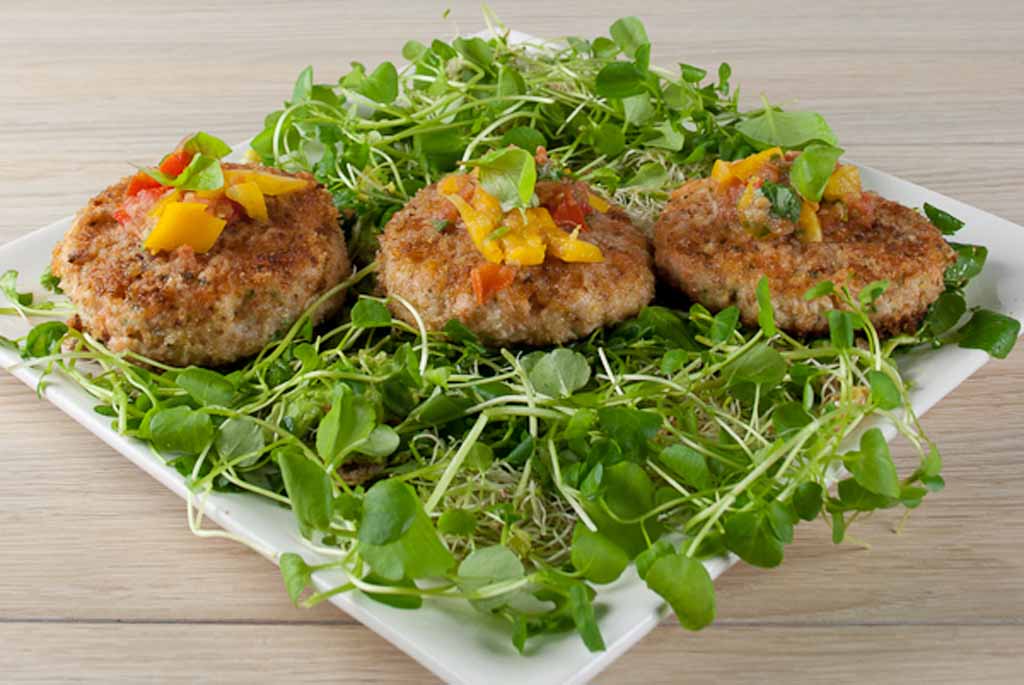 This is a Jamie Oliver recipe which I have made low Fodmap. This was from his book, Jamie's 30-Minute Meals, so I tried to make it in 30 minutes. I got out all the ingredients and equipment, put on the oven and then started timing the making, and still it took 50 minutes. I had no issues with the process and worked as quickly as possible but I simply couldn't get it down to 30 minutes. I would love to hear from someone who has managed it.

Swedish-Style Fishcakes
Author:
Suzanne Perazzini
Ingredients
Potatoes
500g baby new potatoes
½ a lemon
Mixed fresh herbs eg: thyme & rosemary
Fishcakes
2 slices stale gluten-free bread
2 x 150g salmon fillets – skinned and pin-boned
1 x 200g tuna steak
1 x 300g haddock fillet – skinned and pin-boned
1 lemon
Parsley
1 tsp garlic-infused oil
Salsa
1 fresh red chilli
1 fresh green chilli
4 spring onions (green part only)
4 tomatoes
Red wine vinegar
½ a cucumber
1 yellow pepper
1 red pepper
2 lemons
Fresh basil
Salad
100g alfalfa sprouts
Fresh mint
1 punnet water cress
1 lemon
Method
Potatoes
Microwave potatoes in a bowl with ½ a lemon.
Cover with cling film and cook 7-10 minutes until cooked through.
Chop up herbs and add to potatoes with salt, pepper and a splash of olive oil.
Mix. Tip into heatproof dish and place in top shelf of oven at 220°C/425°F for about 15-20 minutes.
Fishcakes
Whiz bread in food processor. Tip out onto a sheet of tin foil.
Add all the fish to the processor with the grated zest of 1 lemon, some parsley leaves, salt and pepper. Pulse a few times, but not too much.
Tip the mixture onto a platter, add a couple of tbsps of the breadcrumbs and form into 4 patties of even width.
Coat in the breadcrumbs.
Put on a frying pan with some olive oil and the garlic-infused oil. Add the fish cakes carefully.
Cook 7 minutes each side until golden.
Salsa
Wash the processor bowl.
De-seed the chillies, roughly chop the green part of the spring onions and add to the processor with the tomatoes, salt and pepper. Add a swig of red wine vinegar and pulse until chopped.
Pour onto a platter.
Halve the cucumber lengthwise and chop up.
Deseed and chop the peppers.
Mix with the salsa.
Add the juice of 2 lemons.
Chop the basil and add.
Salad
Place sprouts onto a platter .
Finely slice the mint leaves and scatter over.
Snip over the water cress.
Sprinkle with salt, pepper, olive oil and lemon juice.